Franz Ferdinand! Live! Mon. 8/13/18! 8 pm. The Mill and Mine. Click for tickets and info.
August 13 @ 8:00 pm

-

11:00 pm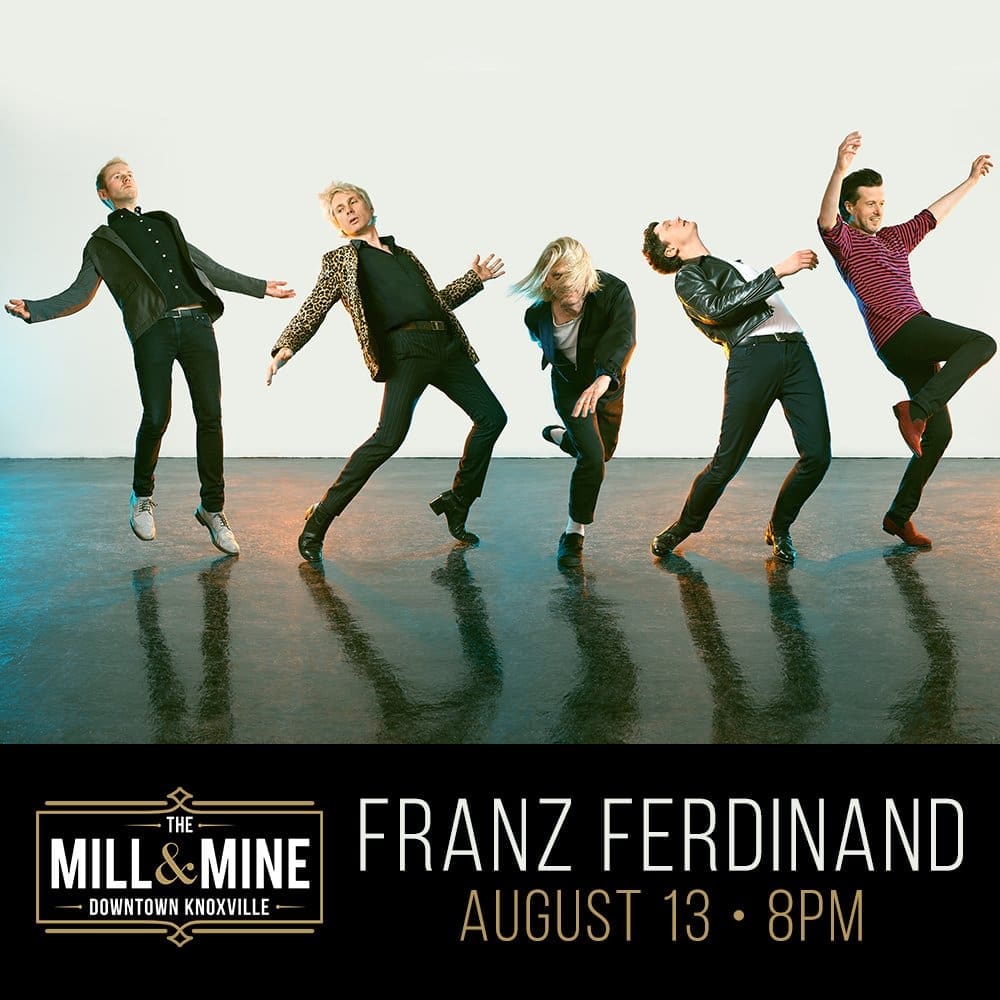 Franz Ferdinand Bio from Rolling Stone Magazine.
With their foppish good looks, skinny trousers and sly, sexy post-punk tunes, Franz Ferdinand were one of the U.K.'s best pop exports in the 2000s, four suave Scotsmen who helped indie kids learn to dance. The Scottish quintet first scored a minor U.S. hit with "Take Me Out," which combined a spiky riff with a shout-along chorus, and subsequent singles — including the blatantly homoerotic rocker "Michael" — only upped the pleasure principle.
Named after the Austrian archduke whose death precipitated World War I, Franz Ferdinand formed out of several earlier Scottish bands, most notably Yummy Fur, which featured singer Alex Kapranos and guitarist Paul Thompson. The duo began writing songs and soon roped in bassist Paul Hardy (a friend of Kapranos', who actually taught Hardy how to play), and drummer Nicholas McCarthy. In 2003, the newly formed quartet released an EP, Darts of Pleasure, which reached Number 43 on the U.K. charts and earned attention for British music mag NME.
The buzz increased dramatically with the release of "Take Me Out," which reached Number Three in the U.K. The album was not initially as successful in the U.S., but after MTV latched onto "Take Me Out," the song reached Number 66 on the Hot 100 and the album worked its way up to Number 32 on the Billboard 200. The band went on to win the coveted Mercury Prize in the U.K., as well as two BRIT awards and performed at the Grammys.
The follow-up album, 2005's You Could Have It So Much Better, which broadened the band's sounds beyond up-tempo dance-rock, got a faster start than its predecessor, debuting at Number One on the U.K. charts and Number Eight in the U.S., although it failed to make much inroads in the American mainstream, with no single charting higher than "Do You Want To," at 76.
A third LP, Tonight: Franz Ferdinand, debuted at Number Two in the U.K. and Number Nine in the U.S. No singles charted in Top 100 in the U.S., but "Ulysses" and "No You Girls" fared better in Europe, reaching the Top Ten in several countries.