Late Thursday afternoon Tennessee starting forward Admiral Schofield announced via Twitter he would be testing the NBA market and submit his name for consideration in the 2018 draft. Schofield will not be hiring an agent.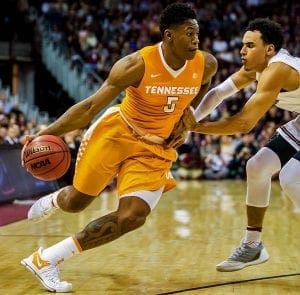 Schofield, who just finished his junior season at Tennessee, can return to the school if he decides to pull his name from the draft before May 30th.
The All-SEC forward tweeted a note out with a message to Vol nation, including in the tweet that head coach Rick Barnes has given him encouragement to go through the process and learn more about it.
"Coach Barnes has encouraged me to go through the process … work out for teams, and learn as much as I can about the transition from college to professional basketball," Schofield added.
The All-SEC, 6-foot-5 anchor behind Tennessee's success this season, Schofield averaged 13.9 points, 6.5 rebounds, 1.5 assists and shot 40 percent from behind the arc in his 2018 campaign.
It would appear Schofield is testing the market and would like to get feedback from NBA teams to see where he could land hypothetically.
The loss for the Vols would be a huge one, as Barnes has announced position need No. 1 is bringing in a high school point guard. Tennessee currently has no commits for the 2018-19 recruiting cycle.
Written by: Caleb Souders
Edited by: Sam Forman