Rick Barnes held his final press conference of the season on Monday afternoon to address the media about the 2017-18 season and the state of the program going forward.
Barnes reflected on the job the team did this season, the loss in the second round of the NCAA tournament to Loyola-Chicago and the players' progress and expectations for both the upcoming season and offseason.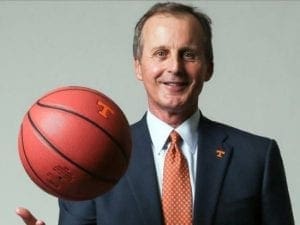 Barnes began the press conference talking about the team's loss to Loyola-Chicago and a quick recap of his feelings towards the game. Barnes had high praise for Loyola-Chicago.
"First of all, they're a really good team," Barnes said.
Adding, "We knew that going in … they have a good of a chance as anyone to win the national title."
Barnes also mentioned he hasn't been paying any attention to the NCAA tournament and had no interest until he watched the Kansas-Duke game Sunday night.
"That's a pretty good Final Four," Barnes said.
Adding, "Any of those four teams can win it, including Loyola. I think we'd know that as well as anyone."
Regarding the loss, Barnes said there wasn't much to tell the team after the loss.
"There wasn't much I could tell (them) after the game." Barnes said.
Barnes also added how the team felt saying,"They were devastated."
Barnes was pretty loose throughout the press conference and especially loose when he joked about how the team handled Kyle Alexander's injury in the matchup against Loyola.
"We show our defensive highlights before every game," Barnes said.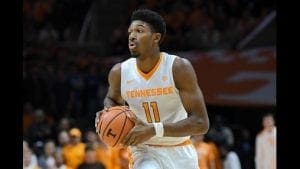 "But we shouldn't have done that before the Loyola game because (Kyle Alexander) is involved in all of those clips," Barnes added.
Tennessee certainly missed Alexander's down-low presence in the loss to Loyola and Barnes made sure to make note of that in his final presser of the season.
"I think he realizes he's a very important piece to this team," Barnes said. "Obviously, we missed his presence in the game."
As far as the performances of several players on the team, Barnes said he began individual sit-downs with all of the players on the team and when asked about transfer possibilities, mentioned "that could happen. I don't know if it will or not, but it could."
Barnes was not shy about criticizing some players when asked about individual performances, including transfer-guard Chris Darrington.
"(Chris) was not able to raise his level of competition the way he needed to as the season went on," Barnes said.
Adding, "Is he a good player? Yes, he's a good player … he is capable of playing at a high level."
Barnes even had criticism for Tennessee's own SEC Player of the Year, saying Grant Williams' top priority this season should be "improving his conditioning," noting that next year Williams could improve his perimeter defense in the coming season.
In regards to the loss of James Daniel III, Barnes said he will be making acquiring a guard the top priority for the team this upcoming offseason. Barnes mentioned the team would obviously be open to the grad-transfer route, but would prefer a high school player.
Barnes also confirmed Penny Hardaway's words from earlier in the day, saying the Tennessee-Memphis rivalry is back on.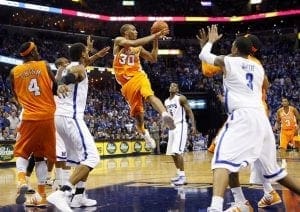 "We had been working on (that) with Tubby Smith," Barnes said.
Adding, "…We go there first, and then they come here … and then we have a meeting in Nashville … we would like to make it a big day in Nashville for basketball."
All in all, Barnes was laughing and joking around throughout the press conference, mentioning that it took him a little while to get over the loss, but that he is looking forward to next season.
"There's a week when you're angry, you're mad, because you feel like you can always do more," Barnes said.
"It took me about a week or two … I told my wife I knew I was ready for next year because I was starting to think about how to get better," Barnes added.
If there is a specific takeaway from the press conference, it is that the confidence of Barnes is sky-high after the underdog Volunteers took the SEC by storm this season.
"This group did some special things … what I like most, is that they're not satisfied," Barnes said.
"We won't be picked 13th in the SEC next year," Barnes also added.
Written by: Caleb Souders
Edited by: Sam Forman