While Rick Barnes currently does not have any high school basketball players committed to play for Tennessee next season, he has his sights set on a potential superstar target: Anfernee Simons, ranked #7 in ESPN's top 100.
Simons is a 6'4 combo guard who currently plays for IMG Academy in Florida and his top targets include Tennessee, Memphis and Florida.
Simons is an elite athlete and great scorer.
According to a scouting report from DraftExpress, Simons's biggest strengths include his explosiveness in the open floor, his ball handling and his ability to hit pull-up jumpers from everywhere on the floor.
He also has a strong floater game and shoots 42% on catch-and-shoot three-pointers and while he is not a great defender at this stage, his technique and feet are very solid defensively.
However, he struggles to finish at the rim through contact and does not have the point guard skills you would want from a player his size.
While the obvious question is "Would Simons commit to Tennessee?", college basketball fans need to first answer the question "Will Simons play in college at all?"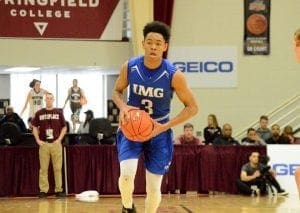 Simons graduated high school last year, but was young for his grade, so he decided to take a post-grad year at IMG to weigh his options.
Because he will be 19 by July and is one year removed from his high school graduation, Simons is allowed to skip college completely and declare for the NBA draft.
Tankathon.com's most recent mock draft has Simons going to the Atlanta Hawks with the 17th pick in the first round.
Simons is incredibly raw as an NBA prospect right now, so it would make sense for him to develop in college for at least one season. However, it would be tough for him to turn down the opportunity to be a first round pick and immediately make an NBA salary.
If Simons decides to play college basketball, it is widely speculated that he would attend either Tennessee, Memphis, or Florida.
247 Sports finds it most likely that he attends Florida (39%), followed by the Vols (28%) and Tigers (22%).
Simons would slot into next year's Tennessee team as a replacement for senior James Daniel, but unlike Daniel, Barnes would probably be forced to start Simons over Jordan Bone or Jordan Bowden due to his elite skillset.
However, both Florida and Memphis offer inviting situations for Simons as well.
At Florida, Simons would be able to replace senior guard Chris Chiozza and stay close to his hometown Orlando and current school IMG. At Memphis, meanwhile, Simons would be an elite one-and-done prospect for new head coach Penny Hardaway and one of Simons's closest friends at IMG is Hardaway's son Jayden.
Simons is a fantastic talent that any college basketball team would want for their team.
However, Tennessee fans should not be expecting to see Simons on campus next year: even if Tennessee can beat out Florida and Memphis, they'll still have to compete with the allure of the NBA.
Update
Simons has announced he will enter the 2018 NBA Draft and skip college basketball.
Written by: Jacob Boughter
Edited by: Sam Forman