The Vols dropped game one of a three game weekend series Thursday night in Columbia, South Carolina against the Gamecocks by a score of 6-1.
South Carolina went into last night's game (14-11) in regular season play and (1-5) in SEC play. The Gamecocks were coming off a rough stint this past weekend as the Georgia Bulldogs hosted South Carolina and swept them in a three-game weekend series.
However, they gained back a little spark on Tuesday night after defeating Davidson by a score of 5-4.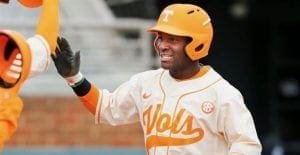 Tennessee, who is now (17-10) in regular season play and (4-3) against SEC opponents, went into Thursday nights game hot as they were on a four-game wining streak.
The Vols were coming off a three-game sweep of the Alabama Crimson Tide last weekend and a monster performance against Western Carolina on Tuesday.
The Vols had trouble seeing the ball and only managed to recorded two total against the Gamecocks. After coming off a 16-hit game on Tuesday night against Western Carolina, it's clear the momentum they had at the plate verses WCU obviously didn't carry over into the series opener against South Carolina.
Tennessee's leading hitters, Benito Santiago and Andre Lipcius, went 0-6 collectively with two walks in Thursday night's loss to the Gamecocks.
South Carolina's offense came out soaring, scoring six runs off only eight hits. Tennessee's bats must be more consistent if they want to take the next two games at Founders Field.
Vols starting pitcher, Garrett Crochet, had a rough outing giving up seven hits while allowing six runs.
The bottom of the first inning was rough for Crochet against South Carolina, giving up three runs early in the ballgame. Things wouldn't get much better for the freshman as he would give up two more runs in the bottom of the third and another run in the fifth inning.
Crochet is now 2-3 as a starting pitcher this season.
Game two of the three-game series is set to begin Friday night at 7 p.m. ET.
Written by: Daniel Brackman
Edited by: Sam Forman