Spring is back or at least the feel of it is, which means the Lady Vols softball team has been taking the diamond a lot lately.
It's been much of the same for Tennessee and co-head coaches Ralph and Karen Weekly on the season's hot start. The 4th-ranked Lady Vols host SEC foe Missouri this weekend for their first conference series.
Looking at the Tigers of Missouri
Missouri is coming off a 10-3 win over Drake University last Sunday, March 4th. They have won 10 out of their last 12 and will bring a 16-7 record to Knoxville, under first year head coach Gina Fouge.
The Tigers are led at the plate once again by Amanda Sanchez.
The junior third baseman is as hot of a hitter in the SEC as there is after one month of play.
In the Mizzou Tournament last weekend, she was one of many Missouri hitters that roughed up the pitching staffs of Creighton, Drake and Southeastern Louisiana.
Sanchez is in the top 10 nationally in just about every category. She has 35 hits which is third and has logged 64 bases off those hits, which is second. Another bright spot for the Tigers is a up-and-coming freshman, Brooke Wilmes.
After starting the 2018 campaign 0-for-14, Wilmes had her coming out party last weekend hitting .500, plating eight runs, four doubles, three triples and a home run.
With eight-multi hit games and five games with multi RBI's along with the never-ending production from Sanchez, these will be two bats that the Weekly's and this Tennessee pitching staff will be looking to keep quiet.
To the circle for the Tigers, things don't seem to be as hot.
While the 16-7 record does speak for itself, the combined ERA does not.
This staff brings in an ERA of 3.19 and is facing a Lady Vols squad that has five batters over .300 and six that have double digits in runs scored.
However, the staff Missouri is bringing to Knoxville does have bright spots.
This staff has struck out 108 batters through 23 games and is led in strikeouts by Lauren Rice, a freshman from Morrison, Illinois with 38. If Missouri can pitch smart, there is the possibility that Tennessee's bats can be contained and we see a close series.
Moving to the Lady Vols
As stated earlier they are off to another hot start with a 21-1 record and are the 4th-ranked team in the country.
After starting the season off with three-straight tournaments, Tennessee came home last weekend and beat Toledo, South Alabama and Charleston Southern.
This might be the best hitting team Tennessee has had in the past few years.
As stated earlier, the squad has five batters hitting north of .300 and six that are already in double digits in plating runs. The leader at the plate though it's none other than senior Meghan Gregg.
The discipline she brings is outstanding as she has recorded a hit in all but three games and 10 of those games are multi-hit games.
Of course, you can't forget her .471 batting average and her team-leading 28 RBI's.
Like every great Tennessee team the Weekly's field, Gregg has an outstanding supporting cast.
There's the sophomore duo of Chelsea Seggern who leads the team with a 33 RBI's and Jenna Holcomb who leads the team with a .481 batting average.
Now, to the circle for the Lady Vols where there's just a two-headed monster that awaits just about any team and you can bet Missouri sees both this weekend.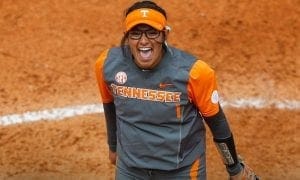 Matty Moss, a junior from Greeneville, South Carolina and Caylan Arnold, the homegrown sophomore from Maryville are probably the best duo in the nation so far this season.
Moss holds a 9-1 record with 1.06 ERA. Adding to that, she's holding opponents to .195 at the plate and has 48 strikeouts on the year.
Arnold is just as good, with a 10-0 record and a 1.21 ERA. She has sat down 108 batters in the first month and hitters haven't been able to figure her out either as she has an opponent batting average of .176.
Then, the up-and-coming freshman Gabby Sprang has a 2-0 record and has struck out nine batters so far in 2018.
Missouri's work is cut out for them this weekend.
The Tigers do lead the all-time series, 6-4 but Tennessee holds a 2-1 edge in Knoxville.
In the last meeting between the two teams in 2016, Missouri won the series two games to one in Columbia.
This weekend's first game will start at 5:00 p.m. ET at Sherri Parker Lee Stadium in Knoxville.
Written by: Jake Wallman
Edited by: Sam Forman