The No. 4 Lady Vols (22-1) softball team defeated Missouri (16-8) on Friday night by a score of 7-4.
This was the first of a three game series against Mizzou here in Knoxville. The Lady Vols maintained a three run lead for the first part of the game until the sixth inning when the Tiger's Callie Martin hit a two RBI double to left field, cutting the deficit to one and making the score 3-2 in favor of UT.
Caylan Arnold was the starting pitcher for the Lady Vols and continued her dominance from the circle this season.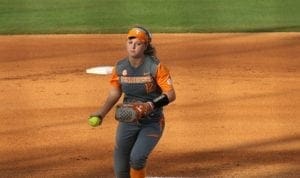 Arnold pitched six full innings recording five walks, five hits and four earned runs against 29 faced batters.
With her eight strike out game on Friday, Arnold continued to show her superior skill set as a pitcher.
Arnold would wind up picking up the win and is now 11-0 on the season.
Senior Meghan Gregg had a phenomenal game from the plate for the Lady Vols.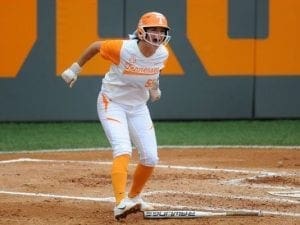 Gregg went 1-3, with four RBI's and added two runs for Tennessee.
As the Tigers crawled their way back from a 3-0 deficit to make it a one run game.
Gregg came in clutch and towered one to right center field to give Tennessee a  7-2 lead.
Head Coach Ralph Weekly said of Gregg, "Meghan hadn't done a lot tonight with the kid, and she came up to me and said she wasn't seeing it tonight, but she definitely saw it there."
With the win the Lady Vols improve to 22-1 on the regular season.
Missouri is the first SEC matchup Tennessee has faced this year, with a great first start look for the Lady Vols to continue their success this regular season.
Written by: Daniel Brackman
Edited by: Sam Forman