Tennessee hadn't played in Columbia in three years and when the two teams took the field Friday night for game one, sparks flew from just about the jump.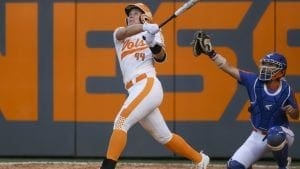 Abby Lockman broke open the scoring with a solo shot in the second inning.
Two more runs crossed the plate on an Aubrey Leach triple and after two innings, Tennessee led 3-0.
The Gamecocks were quick to answer though as they plated three runs of their own in the bottom of the third.
The swiss army knife for South Carolina Mackenzie Boesel opened their scoring.
With two outs she tripled to center scoring two runs and on the next at bat Krystan White scored her teammate from third and we were knotted at 3-3.
The fireworks raged on with Ashley Morgan starting Tennessee's fourth inning off right with a home run that scored her and Sheridan Allen.
Tennessee plated another two runs in the fifth and with as well as Caylan Arnold was pitching, getting Tennessee out of jams, just keeping her cool, it seemed as if Tennessee had this one in the bag up 7-3 with 2 ½ innings left to play.
Then Kelsey Oh entered and the South Carolina pitching staff that has been dangerous all season showed its teeth and the bats heated up.
Oh's entrance lit a fire under her team and Tiara Duffy led off with a home run to cut into the lead at 7-4. Boesel who was mentioned earlier took a 2-2 pitch and homered to right following Duffy and we're sitting at 7-5 and buckling up for a wild finish.
Oh extinguished Tennessee's offense and Arnold suffered as she was pulled in the sixth inning.
Freshman Gabby Sprang entered to pull UT out of a sticky situation, but by then South Carolina had tied the game. The bottom of the seventh brought Kenzi Maguire to bat and she led off with a double to center. Two pitches later, Sprang over threw Lockman on a pitch, the ball rolled to the backstop and Maguire scored with ease to give the Gamecocks game one, 8-7.
There were several opportunities for Tennessee to take control. There was even one or two times where Tennessee had South Carolina backed into a corner and the bases loaded then out number three would be recorded and the inning is over.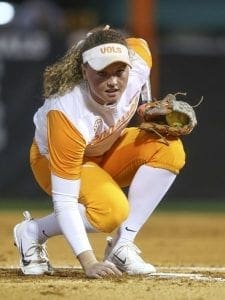 Some may questions when Arnold was pulled in this game.
Yes, she looked tired but if she was pulled earlier, Tennessee might've avoided a series opening loss.
It has all come to pass and Tennessee will travel back to Carolina Softball Stadium for game two in the matinee time slot at 3pm.
Written by: Jake Wallman
Edited by: Sam Forman