It was a rough day in Columbia yet again for the second ranked softball team in the nation.
The Lady Vols lost their third straight game to the Gamecocks 15-5 in only five innings on Sunday afternoon. With the win, South Carolina completed the weekend sweep of the Tennessee.
The game was neck and neck in the first two innings until Ashley Morgan's bomb in the top of the third inning giving the Lady Vols a 5-2 lead.
It looked to be Tennessee's game until South Carolina's bats proved to be dominant against the UT's pitching. The Gamecocks put together a eight run half inning in the bottom of the third to snatch the lead from the Lady Vols at 10-5.
The No. 15 Gamecocks continued their dominance after a quick half inning in the top of the fourth.
The bottom of the fourth inning would ultimately lead to the demise of the Lady Vols on Sunday afternoon.
The inning started with two runners on base for South Carolina's Tiara Duffy who towered a three-run homerun to give the Gamecocks a   13-5 lead over the Lady Vols.
However, the Gamecocks weren't done just yet, before the inning ended they added two more runs to increase their lead to 15-5.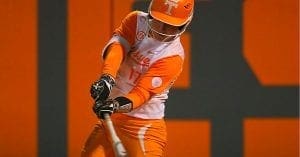 With a 10 run deficit to overcome, the Lady Vols were staring a run rule loss right in the face.
The top of the fifth started out bright for UT as Chelsea Seggern ripped the ball down the right field line for a double.
However, the next three batters for Tennessee would all be retired by the Gamecock defense.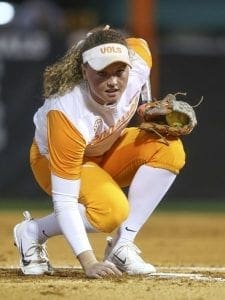 Sophomore pitcher Caylan Arnold suffered her second loss of the season.
Her overall season record is now 13-2 after she allowed four runs on two hits to the Gamecocks on Sunday.
Errors, leaving runners on base and keeping the ball out of the air proved to be three detrimental factors for the Lady Vols on Sunday in a game they really needed to win.
As a whole, the team racked up four total errors and only eight total hits on the afternoon, proving that Tennessee's big bats are crucial in maintaining a winning formula in SEC play.
The Lady Vols (now 30-4) next weekend series begins on Saturday March 31st against the Georgia Bulldogs at Sherri Parker Lee Stadium. Game one has a start time of 5 p.m. ET.
Written by: Daniel Brackman
Edited by: Sam Forman