The Lady Vols lost to an FAU Owls team that is 5-1 in Conference USA, that was on Feb. 17th and since then, Tennessee has gone on a tear that is a 22-game winning streak and now has the number two ranking in the country.
Nothing changed last weekend as Tennessee welcomed SEC foe Missouri to Sherri Parker Lee Stadium. Hot bats and just dominant pitching were able to cool off Missouri as Tennessee swept the Tigers.
However, Tennessee isn't playing Missouri.
The 16th-ranked South Carolina Gamecocks come calling for a Friday, Saturday, Sunday series in Columbia, South Carolina. Here you'll be given a full series preview and keys to a series win for the Weekly's and the Lady Vols.
First, we'll look at the opponent and what you need to know about the Gamecocks.
South Carolina is like Tennessee as it's a school that's had a consistent softball program.
They hold a 25-4 record and are 2-1 in the SEC winning last weekend's series with Ole Miss.
At the plate, South Carolina holds a modest .289 batting average and is led by sophomore Mackenzie Boesel who's batting .382.
The sophomore is more like a swiss army knife as she leads the team in a plethora of other categories, the most impressive would be the .584 slugging percentage. She and five other Gamecocks have started every single game, which says it takes a lot more to wear this team down.
Behind Boesel, it's sort of a log jam as every player seems to show as much discipline as the one before.
Next lets look at South Carolina in the field and the circle.
These are two categories that battle it out for second and third, and they both make several cases to be first.
Every player has a fielding percentage of .944 or better, a few regulars even hold 1.000. Krystan White, one of the handful of players who have started every game, leads the Gamecocks with 169 putouts. The next closest is Alyssa VanDerveer at 81.
Moving to the circle, South Carolina has three dominant pitchers that they could roll out in any order this weekend.
Lets start with the junior transfer, Dixie Raley. She's seen action in 13 games and has started seven of those. In Raley's two seasons at Georgia Southern, she led the team in a handful of categories including ERA and wins.
She was also picked to the 2017 All-Sun Belt second team. Her accomplishments include six career shutouts with the Eagles in 43 appearances with the team, second in school history.
She also faced her current team and is the only Georgia Southern pitcher that can claim a win over South Carolina.
She seems more like the day two starter. If we had a guess, Cayla Drotar would be the game one starter.  Dropper has 15 appearances and 13 starts, the sophomore holds a 12-1 record and a 1.37 ERA, after going 7-4 with an ERA of 3.53 last year as a freshman.
Lastly waiting in the wings is freshman Kelsey Oh. She rounds out the staff with a 1.53 ERA and an opponent batting average .178.
Now onto Tennessee.
As stated already, this team has rattled off 22 straight wins and is ranked number two in the nation, so they're pretty good.
Tennessee went 5-0 in the Rainbow Classic outscoring their opponents 58-8 (yes you read that right) and now comes to six straight SEC games before stepping out of conference play.
This upcoming series with South Carolina looms large as the other undefeated SEC school in conference play is Texas A&M, who travels to Gainesville, Florida this weekend for a series with the Gators.
But again, back to Tennessee.
Fourteen Lady Vols are hitting .250 or over and are led by sophomore Jenna Holcomb batting .479. Megan Gregg is a key cog in plate performance for the Lady Vols. She still leads the team in homers and gained the lead in RBIs while the team spent last week in Hawaii.
Another comparison is Tennessee does have a trio of women that have started every game. Megan Gregg, Aubrey Leach, and Chelsea Seggern have started all 31 games and will probably start in these three.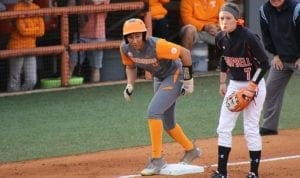 A major bonus for the Lady Vols is they got junior utility player Brooke Vines back while in Hawaii.
Most including the UT coaching staff where not sure Vines would play this year after having shoulder surgery that took her out of action for the first 25 game of the season.
It is really almost a surprise Vines has found her way back on the filed this season as she had to under go a second surgery back in December. Lady Vols co-head coach Karen Weekly told the media on Wednesday that Vines second surgery that there was major doubt she would return.
"Once she underwent a second procedure in December, we were a little concerned that she'd be out the whole season," said Weekly.
She would also call Vines return a unexpected blessing, while Gregg said here return would only add to UT's momentum.
Gregg also added, "having Brooke back just gives us some more confidence in our lineup."
Gregg is right if you look at Vines numbers from a year ago.
Vines batted .385 and drove in 59 runs, plus she recorded a hit in each game of the Super Regional last season agains Texas A&M.
She also looks to have shaken of the rust early as Vines hit .500, had four RBI's on nine hits in her return to action in Hawaii.
Moving to pitching for Tennessee, the Lady Vols have more of a clear cut two-headed monster compared to South Carolina's three.
While three will always better than two, this staff is not a joke. Matty Moss has a 1.04 ERA and Caylan Arnold is still undefeated.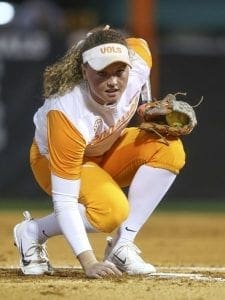 Even Gabby Sprang, the freshman that might get lost in the wash has a respectable 2.56 ERA and saw a decent amount of action this past week.
Not to mention but she's also 4-0. Backing up whoever is in the circle is an infield reliable as any.
Nine Lady Vols have a fielding percentage of 1.000 and nobody that's seen the field is lower than .800, bringing the average to a solid .967.
So about those keys to victory for Tennessee.
There are two things that this team will need to do to ensure a series win or even another SEC sweep.
First thing, patience is a virtue. This South Carolina staff is dominant in the circle. The third-best opponent's batting average is .201 and that's not bad.
So, they'll need to make sure they get the pitch they want and work the counts. Fouling pitches off and putting Drotar, Raley and Oh in spots facing pressure they haven't seen.
Second, be the road warriors you are.
South Carolina is 11-0 at home. The Weekly's started the season off playing three straight tournaments to make something out of this team. Nothing hardens a team into a solid team on the road like three straight tournaments.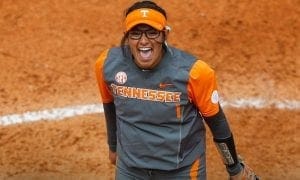 Tennessee should win at least two games in the series and they even can win all three. But if they stick to those two keys, they're a lock.
Written by: Jake Wallman
Edited by: Sam Forman