March Madness has provided more madness than anyone could have ever predicted.
It has gotten to the point where madness is not a strong enough word to describe what the first two rounds have provided us. however, here we are with the Sweet 16 knocking on the door and more upsets, buzzer beaters and of course, madness to come.
Here is your guide to the East and South Sweet 16 match ups.
First things first here are the matchups for these parts of the bracket:
East
1 Villanova vs. 5 West Virginia, March 23 7:27 p.m.
     VS.   
2 Purdue vs. 3 Texas Tech, March 23 9:57 p.m.
       VS.         
South
7 Nevada vs. 11 Loyola Chicago, March 22 7:07 p.m.
     VS.         
5. Kentucky vs. 9 Kansas State, March 22 9:37 p.m.
        VS.           
Game to Watch
Nevada and Loyola-Chicago are both on improbable cinderella runs, but one will come to an end which makes this the game to watch out for these four.
One will advance and one will go home. Let's take a look at the history books for both of these seeds in March Madness.
The last time we saw a seven seed make a run was not too long ago.
UConn cut down the nets in 2014 as a seven seed against eighth seeded Kentucky.
Nevada has made the tournament seven times, but has yet to make it past the Sweet 16 with their 2004 run as a 10 seed ending with a loss to a three seed in Georgia Tech.
As for the Ramblers from Loyola, the 11 seed also comes with some recent history.
In 2011, VCU made it all the way to the Final Four before having their miracle run cut short by eighth seeded Butler.
In total three 11 seeded teams have made it to the Final Four with the other two being George Mason (2006) and LSU (1986).
Believe it or not, the Ramblers have gone all the way and won the whole tournament way back in 1963. Their last tournament appearance came in 1985 with a Sweet 16 exit to Patrick Ewig and the Georgetown Hoyas.
What makes this the game to watch is how close both teams' games have been so far.
Nevada escaped against Texas in overtime with a four-point victory; then followed that up with a two-point victory over Cincinnati.
Loyola has kept things just as interesting if not more interesting. Starting the tournament off with a three-point shot with only .3 seconds remaining to give them a narrow victory over Miami. Of course, their next game needs no reminding with a one-point win over the Volunteers.
Now for the numbers, Clayton Custer is the man to watch for the Ramblers as he leads them with 13.3 PPG this season.
Complimenting Custer is big man Donte Ingram who averages 6.4 RPG and 11.5 PPG.
I have to mention Sister Jean, the 98-year-old nun who has become the star of the tournament with her holy luck helping out the Ramblers.
For the Wolf Pack, they are led by Caleb Martin with 18.8 PPG and 5.4 RPG. So far in the tournament Martin averages 14 PPG and is shooting 35% from the field.
Prediction: Nevada 68 Loyola 62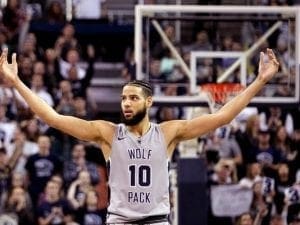 Loyola has had two game-winning shots with only seconds to go, but don't expect that March Madness luck to keep up with the Nevada Wolf Pack.
Closest Game
Two heavy dogs remaining from the East face off as second seeded Purdue takes on thired seeded Texas Tech.
The big storyline here is Purdue's heart and soul of the team Isaac Haas is out for the rest of the tournament with a broken elbow.
The loss of Haas means their second-leading scorer and rebounder will be sidelined for the rest of the tournament.
The Boilermakers will lean heavily on Carsen and Vincent Edwards who have averaged 14 and 17.5 PPG respectively this tournament.
For Texas Tech they come into this matchup off a narrow three-point victory over Florida.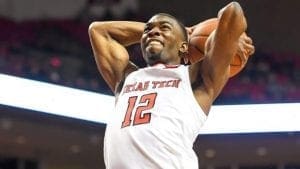 Senior Keenan Evans is leading the Red Raiders with 22.5 PPG so far in the tournament.
On the glass is Zhaire Smith with 8.5 RPG so far in the tournament and a quiet 14 PPG.
For Texas Tech to move on to the Elite Eight they will have to exploit the paint more with Haas sitting on the bench.
Big men like Smith and Jarrett Culver need to bully the Boilermakers down low to start forcing Purdue's offense to play catch up and force bad shots.
As for the Boilermakers, they are no strangers to the deep ball.
Their top minute's recording players are also their top four in three-point percentage. So, if they can't play down low with Haas then start letting it rain from deep.
This game simply comes down to if Purdue can get hot from beyond the arc. If it's a slow day at the office then Tech may run away with this one.
Prediction:

 Purdue 70 Texas Tech 66
Purdue may be short-handed, but they still have loads of talent and scorers to get them past the Red Raiders and onto the Elite Eight for the first time since 2000.
Blowout 
Kentucky may be the luckiest team in the tournament right now.
All they have done is win the games they were supposed to against a 12 and 13 seed.
Meanwhile, disaster has gone on all around them with seeds 1-4 being knocked out and making this the first region in the history of the tournament to not have one of the top four seeds make it to the Sweet 16.
On top of that, they get to be on the side of the bracket where a one seed lost to a 16 seed for the first time in Men's NCAA Tournament history.
The Wildcats take on the Kansas State Wildcats in the Sweet 16 and for the first time in the tournament are playing a single-digit seed, barley.
Kentucky looks like Kentucky usually does in March averaging 86.5 PPG which is second in the tournament behind West Virginia.
For the other Wildcats from Manhatten, Kansas they have taken down Creighton by 10 points and then UMBC by seven.
Kentucky is the top team left in the South and they seem to be the one to emerge to the Final Four so Kansas State shouldn't be too tough for the Blue.
Prediction:

 Kentucky 78 Kansas State 61
However, it is called March Madness for a reason so don't be too surprised if more craziness happens. For now, Kentucky seems like they will win with ease here.
Best Match Up
Last and certainly far from least is the Villanova Wildcats and the West Virginia Mountaineers.
This game has the potential to be the best of the entire Sweet 16, if West Virginia can keep their offense rolling and Nova is having a slow day. Let's waste no time and take a closer look at this match-up.
As said before West Virginia is averaging the most PPG this tournament with 89.5.
Their defense is nothing to brag about with the Mountaineers surrendering an average of 69 PPG which ranked 90th during the season.
Through two games so far WVU is lead by Senior Jevon Carter who put up 28 points in their last game against Marshall.
Carter led the Mountaineers in minutes, points, and assists during the season and has not slowed down so far.
Let's not forget about the 2016 tournament champs, though.
Nova has been the strongest one seed so far not blinking an eye. They won their first two games by 26 and 23 points.
So far they have shown no signs of slowing down.
This match-up will come down to the tournaments number one offense vs the regular season's number one offense.
Who will make the last shot?
Prediction:

 Villanova 82 West Virginia 79
Written by: Matthew Peterson
Edited by: Sam Forman