On Feb. 28, the Memphis Grizzlies will host the Phoenix Suns in what will likely prove to be one of the most important games in the 2018 NBA season's race to the bottom.
The two teams are currently co-owners of the league's longest losing streak (ten games each!) and both are set to finish with a top-5 pick in this year's NBA draft. With that in mind, let's take a look at this year's top prospects and grade their fit with Memphis's projected 2018-19 roster.
Today, we'll focus on three players who would likely be available if the Grizzlies ended up with the fourth pick in the draft: Michael Porter Jr., Trae Young, and Mohamed Bamba.
Michael Porter Jr.- F, Missouri, 19.7 years old, 6'10, 216 lbs
The first player we'll examine here is one of the most interesting cases in the 2018 draft.
Michael Porter Jr. was the second-ranked player in ESPN's top 100 entering the 2017-18 college basketball season, but after only two minutes of playing time, a back injury forced him out of Missouri's lineup.
Recently, Porter was cleared for all basketball activities and it's possible he returns to the Tigers' starting five before the season ends. Porter would be a great fit for the Grizzlies as a combo forward with an incredibly polished scoring touch.
While he still needs to improve his ball-handling and defense, Porter's jump shot, athleticism, size and potential would make him an ideal forward to play alongside Mike Conley and Marc Gasol in Memphis.
While Porter's fit with the Grizzlies is ideal, his back injury should be a little frightening to a team paying the perma-injured Chandler Parsons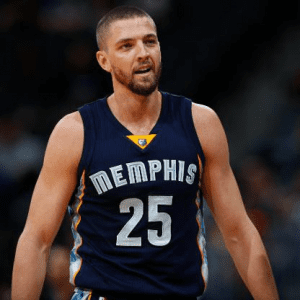 $24 million per year.
Back injuries can be nagging injuries that last with a player throughout their entire careers and NBA stars such as Tracy McGrady, Larry Johnson, Brad Daugherty and Ralph Sampson were hampered by back problems during their careers.
However, Porter has the benefit of modern medicine and training.
If the Grizzlies don't uncover any major concerns with his injury, he would be a great fit for the team.
Fit with the Grizzlies: A
Trae Young – PG, Oklahoma, 19.4 years old, 6'2, 180 lbs
ESPN's favorite college basketball player has cooled off a bit since his scorching hot start to the season, but Trae Young remains one of the best options for any team picking in the lottery this June.
Young leads the NCAA in both points and assists per game, averaging 28.3 and 9.1 respectively.
He also has the best three-point shot of any player entering the draft, shooting 37.5% from behind the arc while attempting a shocking 10 three-pointers per game and regularly launching shots 25+ feet from the basket.
Of course, Young isn't without his flaws as a prospect.
He leads the country in turnovers, averaging over five per game and is also generally a poor defender. Still, Young can open up a basketball court in a way no 19-year-old has ever been able to and he will be a top lottery pick because of that.
Could Young and Conley co-exist on a basketball court?
Offensively, the two of them should be able to work well together in a poor man's version of Houston's Chris Paul-James Harden backcourt – sharing the floor in crunch-time while one of the two commands the point guard position for all 48 minutes.
However, defensively the two would form a very small guard partnership when playing together.
Conley would likely take the tougher guard assignment, leaving Young defending the worse offensive player.
While Conley is a great defender, he is also 30 years old and coming off of heel surgery. This means that drafting Young would put a huge burden on Conley (as well as Wayne Selden and Dillon Brooks) defensively.
Fit with the Grizzlies: B-
Mohamed Bamba– C, Texas, 19.8 years old, 7'0, 225 lbs
Grizzlies fans shouldn't be quick to dismiss Texas's Mo Bamba as the next Hasheem Thabeet.
Bamba is a potential unicorn and in his best-case scenario, he could pan out as a Rudy Gobert-level defender with a three-point shot.
Bamba has a massive eight foot wingspan and is second in the NCAA in blocks, averaging 3.8 per game.
He is also one of the smartest and most mature players in the country. While he is a work-in-progress offensively, Bamba will still be able to finish around the rim as he becomes a more skilled player.
He is also a solid mid-range shooter and has shown signs of developing a three-point shot. However, he is only shooting 26% from behind the arc this season. Defensively, Bamba is already a star and while he is still raw, he has an incredibly high ceiling and the ability to become a two-way superstar.
Bamba's fit with the Grizzlies is a little harder to pinpoint. 
Because the team has Marc Gasol at center already, Bamba would be best suited as a bench center that could occasionally slide to the four in lineups with Gasol.
While Gasol's three-point ability could space the floor with Bamba on offense, both are best suited manning the middle on defense and any Gasol-Bamba lineup would struggle to guard a lineup playing a wing at power forward.
Despite this, Bamba would be a great pick for the Grizzlies as an eventual successor for Gasol, even if the two of them are an awkward pairing together.
Fit with the Grizzlies: B
 This is part one in a multi-part series, where we will break down how top prospects in the 2018 NBA draft would fit with the Memphis Grizzlies. Next time, we will examine a pair of freshman power forwards dominating college basketball
Written by: Jacob Boughter
Edited by: Sam Forman