The Vols would jump out to an early 1-0 lead in the first inning, but after that things would get crazy and end in a 5-4 Vols win.
This game was crazy and the type of crazy that isn't even conventional.
After the first inning the next couple were quite as both pitchers looked to be dealing.
Garrett Crochet would have six K's by the end of the third for UT.
Tennessee would add to their lead in the fourth inning with an RBI hit from Evan Russell making it 2-0.
Entering the top of the fifth the Vols had seven hits to Alabama's one.
That would all change as Bama's Chandler Avant and Chandler Taylor both would get hits and the Tide would wind up with four hits and a 3-2 lead by the end of their half of the fifth.
The Vols answered though grabbing a couple of hits in their half of the fifth and after five it was tied up 3-3.
Coach Tony Vitello would finally go to the pen with one out and a man on second in the seventh inning. Fellow freshman and later inning reliever Donovan Benoit was trotted out and he would find a way to get the next two batters and end a very scary inning for UT.
It wouldn't get crazy again until the eight when UT would on the same play have a wild pitch and an E2 to put an Alabama runner on third base.
He would be driven in after Zach Lingenfelter took the mound in relief for the Vols and that would tie it back up at four.
After another wild pitch, Lingenfelter would get a ground out and escape the inning.
UT would give it a real punchers chance in the eighth, but unfortunately couldn't get anything after they load the bases and see a rare 1-2-3 double play to end what could have been the final nail in the Tide's coffin.
Alabama failed to get a run in the top of the ninth and in the bottom half the Vols capitalize on inaccurate pitching and a huge error at third. UT's Evan Russell would draw a walk-off walk to win the game 5-4 as said above.
When asked about how his players approached they're at bats today Vitello said how they were "aggressive mentally."
Five different players had two or more hits and the team went off for twelve total.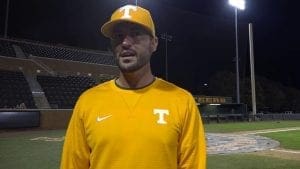 As well Vitello was asked about Crochet's performance on the mound going for eight K's, three walks, two hit batters, giving up six hits, and two earned runs.
Crochet was asked what was working for him on the mound and he stated, "I felt really good with my slider, couldn't locate my fastball very well, but when I could it was effective and the defense played pretty well to, so it helped."
Weather permitting the Vols will play game two on Saturday at 6 p.m. against the Tide at Lindsey Nelson Stadium.
Written by: Colin Castleberry
Edited by: Sam Forman