The Sweet 16 is here as it finally gets underway on Thursday night.
In this preview our own Mac Malachy will give you everything you need to know about the Sweet 16 game from the West and Midwest regions.
WEST
Florida State vs. Gonzaga
    VS.    
This game may be one that is looked over because people have yet to take this Florida State team seriously.
It's time to start.
Watch out for Florida State's rotation and how deep their team goes. They have 11 players that average over 10 minutes a game.
One of those players for the Seminoles is Christ Koumadje, the humongous 7'4''  center that provides extremely valuable minutes off the bench.
Look out for what Gonzaga does defensively to account for the fresh bodies on the floor for FSU. This is a team that doesn't like to push the pace a bunch, but rather maintain a steady pace throughout the game.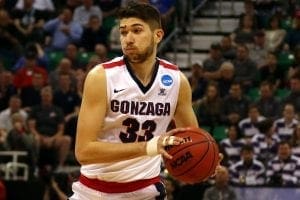 The Zags love to shoot the ball, in fact they have three players currently hovering around 40 percent from the three point line.
One of those being the 6'10'' power forward Killian Tillie who is shooting an outrages 47 percent from beyond the arc.
Expect them to utilize him heavily early on to spread out the aggressive defense that Florida State presents. This is a game that we should expect to remain very close throughout, but expect the seminoles to come out on top with the upset in this matchup.
Texas A&M vs. Michigan
    VS.    
This game may be the closest match up their is in the whole sweet 16. These are two teams that had such high expectations and both fell somewhat flat during the regular season.
For Michigan it was spotty play throughout the season along with two bad losses early in the year. One being to a much lesser caliber of a team in the LSU tigers, where they lost by just two points and the other to UNC where they were heavily outmatched.
Since then the Wolverines have found their stride slowly but surely and have hit their stride at the right time winning their last 11 games including winning the Big 10 Tournament.
For the Aggies, this is a team that was predicted before the season started to win the SEC and was ranked in the top five early in the season after a dominating win over West Virginia where they won by more than 20 points.
Following the hot start the team underwent a multitude of suspensions along with an injury to their starting shooting guard Admon Gilder right as SEC play was about to begin.
Until the tourney started this A&M team had not looked like an elite force since early on in the season.
However, with two players like Robert Williams and Tyler Davis controlling the paint, this team is tough to stop. They plan on manhandling you from the beginning and not letting up.
Michigan may have an answer for the threatening twin towers the Aggies have conjured up though. That man is Moritz Wagner.
The German 6'10'' stud who can bomb it from deep has the ability to make Tyler Davis or Robert Williams step away from the paint where they are less of a threat.
This game may come down to the wire, but I think Texas A&M will be too much for Michigan to withstand down low and will ultimately come out on top because of it.


MIDWEST
Clemson vs. Kansas
    VS.    
The matchup between the Jayhawks and Tigers is very intriguing because I have dogged on this Tigers team for quite some time and they have proved me wrong time and time again.
They shocked me when they went and beat down the Auburn Tigers the way they did considering Bruce Pearl is an extremely quality coach. They proved me wrong at the end of the season when they beat Virginia, who at the time was the favorite to win it all (thanks UMBC for busting my bracket).
Clemson can hurt you in various ways as five of their starters score over 10 points a game.
The leadership that seniors Gabe Devoe and Donte Graham along with the clean shooting stroke that junior guard Marcquise Reed can bring have all proved me wrong this year.
But not this time.
This Jayhawk team may have not hit the Big 12 regular season standards with losing to Oklahoma State twice and dropping games to both Oklahoma and Texas Tech in the regular season.
That does not negate the fact that they have one of the best guards in the game in senior Devonte' Graham, along with the Russian sniper Sviatoslav Mykhailiuk who is an averaging 45 percent from the three-point line.
That tandem together has scored more points than any other two guards have together at Kansas.
That paired along with the Nigerian center Udoka Azubuike who stands at a humongous 7' and has a whopping 7'5'' wingspan is a nightmare below the rim averaging almost two blocks per game.
Rockchalk has their best chance at the national championship since their last title in 2008 when Mario Chalmers and Brandon Rush ran Lawrence Kansas.
Clemson will fight hard like they have all season and they may be able to prove me wrong on how big the margin of defeat is, but in the end…
It will be Kansas who comes out on top.
Duke vs. Syracuse
    VS.    
Syracuse wasn't expected to win 20 games this season.
Instead they went 23-13 and beat teams like Clemson, Virginia Tech and only lost to Virginia by seven points and put up over 60 on them as well that game. The young guards Tyus Battle and Oshae Brissett have exceeded expectations and led this team to where they are now.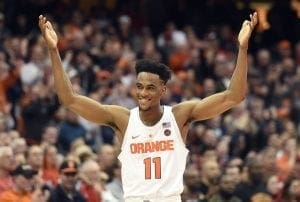 This Duke team however will be the toughest opposition they have yet to face.
 The Blue Devils have one of the best defenses in college basketball and they do it with tough man to man.
Mike Krzyzewski usually loves to put teams in tricky situations with the zone but has found that with this young team it has not benefited them so he has stayed simped and they have thrived since.
Grayson Allen has been in this position before and he has never had a front court like this one to back him up.
Marvin Bagley along with Wendell Carter Jr. pose such a threat down low to any team that it can completely stray away a defenses focus off of Allen leaving him open to do what he does from deep.
For Syracuse to have a chance at victory Jim Boeheim will have to have a scheme drawn up that can completely get this squad off balance from the tip off.
At the end, I believe this will be a fun matchup to watch for nostalgic reasons.
Mike Krzyzewski and Jim Boeheim sharing the hardwood together as opposing coaches is a truly vintage matchup.
This time around, Duke will take it and advance to the Elite 8 over a fellow ACC program.
Written by: Mac Malachy
Edited by: Sam Forman