Kyrie Irving is currently undergoing knee surgery and his timetable to return has been listed as unknown.
This hurts the Celtics as Irving is one of their leading scorers. Earlier in the season, the Celtics lost to the Washington Wizards in overtime without the help of Irving.
The rest of the starters were in, but without Irving the team fell apart.
Not only did they have trouble scoring, but they had trouble defending without him as well.
Irving is an elite point guard who can score no matter who is guarding him.
Replacing him with Terry Rozier is a huge step down from Irving.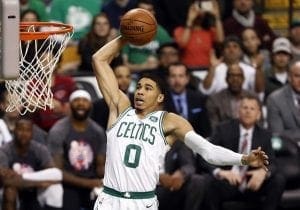 Now, Rozier is an excellent point guard, but nowhere near Irving's skill level.
Not to mention Jayson Tatum can't keep up with Irving's scoring pace. Tatum is a very good player, but once again not an elite, veteran player like Irving is.
With Irving out for 4-6 weeks, the Celtics may have some trouble as they transition into the post season.
He will be out for the rest of the regular season and may miss some of the playoffs as well.
Already losing Gordon Hayward at the beginning of the season, the Celtics could be in big trouble with their two biggest weapons out.
Boston fans will be hoping the Celtics can find a way to make something out of this horrible situation, but based on their track record, they may be out early due to these injuries.
Written by: Andrew Bowen
Edited by: Sam Forman