The McDonald's All-American game tips off Wednesday night at 7 p.m. ET on ESPN. There are many prestigious high school players in this game, but one in particular stands out.
Zion Williamson is the obvious guy to look out for in the McDonald's All-American game, as he has taken not only the high school scene by storm, but pop culture as well.
Williamson has been doing interviews with everyone from Bleacher Report to hanging out with Drake in his free time and he still manages to get it done on the court.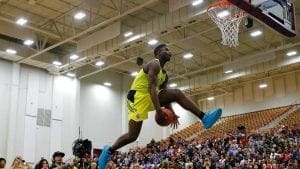 After winning the McDonald's All-American dunk contest on Monday afternoon, he is the clear-cut fan favorite to be the MVP of the game on Wednesday afternoon.
You've probably heard his name by now, but just in case you haven't, here's some information about the most popular high school basketball player since LeBron James:
Position: G/F
High School: Spartanburg Day School (Spartanburg, SC)
Committed to: Duke
Height: 6'7"
Weight: 272 pounds
Won 2A SC State Championship
Williamson has been featured on Bleacher Report, ESPN, Instagram and various highlight reels all year with his rim-rocking dunks and 'LeBron-esque' chase down blocks on defense.

Williamson could take home the trophy Wednesday night for many reasons, including the jaw dropping between the legs dunks he throws down, but his efficiency stands alone.
Williamson has posted four 40-point games and recorded 13 or more rebounds seven times this year.
Since his freshman season, Williamson has averaged 32 points per game in 100 games and averaged 72 percent shooting from the field.
His junior year was the most impressive, connecting on 528-of-692 field goals. Williamson shot 78 percent from the field this season.
In his high school career, Williamson scored 3202 points, 1131 rebounds and 304 steals.
Not only did the coveted 5-star Williamson carry his team to the 2A South Carolina State Championship this past month, but he also managed to post a cool 37 points and 15 rebounds in a 74-41 rout of Trinity-Barnes.
Williamson plays his best games on the biggest stage, as he posted 31 points and nine rebounds in his warmup game to the state championship against Christian Academy of Myrtle Beach.

This will be another show up and show out for Williamson on the biggest stage he will get before he ends up in Durham, North Carolina next season playing for coach Krzyzewski.
Drake even rocks a 'Spartanburg High School' Zion Williamson high school jersey, giving Williamson another fan to bolster his confidence in this one.
Williamson will be rocking No. 12 on the 'EAST' squad and will join fellow Duke commit RJ Barrett from Montverde Academy, another 6-foot-7 combo guard.
Written by: Caleb Souders
Edited by: Sam Forman