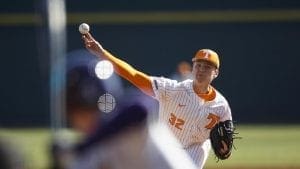 The fans weren't to blame in a packed house at Lindsey Nelson Stadium on Saturday evening as Tennessee (23-18, 6-11 SEC) was downed by No. 16 Texas A&M (29-10, 9-8 SEC), 8-3.
The Orange and White football game crowd brought in extra fans on the day, as most of them poured into the stadium from just down the street, as the football team wrapped up its spring game.
After taking game one against the Aggies the Vols were unable to make it two in a row.
"There is no doubt we did not put our best foot forward … with it, we lost an opportunity to win the series on a Saturday, not just a Sunday," Vitello said. "We totally missed an opportunity to capture some fans that aren't normally at our ballpark, coming over from the football game."
The Vols got off to a rough start to the game, going down 5-0 in the first inning, as Garrett Stallings was thrown into an early hole. Stallings allowed 10 hits in 5.2 innings pitched and gave up six earned runs.
The Texas A&M bats got off to a hot start, something it failed to do in the previous game against the Vols when the team didn't score until the third inning.
The script was flipped in this one, as the Vols got off to a 3-0 lead in the previous matchup, which resulted in a 7-4 win for Tennessee.
Tennessee didn't have the same success in this one, as the A&M bats were too hot too early for the Big Orange to handle. The wealth was spread evenly tonight as 10 Aggies were able to connect with a hit on the day and the team logged 12 hits in the win against the Vols.
Hunter Coleman was especially hot, as he logged three RBI's in five at-bats.
The Vols were able to play a little catch up late, as Texas A&M ace pitcher John Doxakis finally went down for some rest after throwing 107 pitches on the mound, allowing only four hits in seven innings pitched with two strikeouts.
"I don't think (we) were ready, and that's my job, so that's frustrating," Vitello said. "(Doxakis) was pretty dang good … so maybe they would beat us anyway."
The Vols made a push in the bottom of the ninth inning with the bases loaded and Pete Derkay up to bat, who now has a hit in five consecutive games, but he grounded out and ended the game.
Tennessee recorded three errors in the game and only six hits. Jay Charleston and Derkay were the only batters to record multiple hits in the game, and only two other Vols recorded a hit on the night – Brodie Leftridge and Benito Santiago.
Tennessee will face the Aggies tomorrow at 1 p.m. ET with a chance to win the series.
Written by: Caleb Sounders
Edited by: Matthew Peterson