In the weeks leading up to the NFL draft, there has been a lot of buzz about the strength of this year's crop of quarterbacks.
Most experts agree that five quarterbacks will be selected in the first round of this year's draft – USC's Sam Darnold, UCLA's Josh Rosen, Wyoming's Josh Allen, Oklahoma's Baker Mayfield and Louisville's Lamar Jackson.
Since opinions vary so dramatically on which of these signal-callers will be the best at the next level, let's approach this differently than a typical scouting report. Before we look at each quarterback one-by-one, we'll start with a blind comparison of the five quarterbacks' 2017 passing stats. Before skipping ahead to see which quarterback is in each position, take a second to process the chart and try to match this year's QB crop with their stats.

Key: Age When Drafted, Games Played, Yards per Game, Completion Percentage, Passer Rating, Total QBR, Yards per Attempt, Touchdowns, Interceptions, Fumbles
To give this chart a point of reference, here are three more quarterbacks: three NFL quarterbacks in their final year of college who have had varying degrees of success in their professional careers.
Can you tell which quarterback is which?
QB1 is Rosen, QB2 is Mayfield, QB3 is Darnold, QB4 is Allen and QB5 is Jackson. Meanwhile, QB6 is Jake Locker, QB7 is Andrew Luck and QB8 is Marcus Mariota.
With that out of the way, let's look at each quarterback individually to paint a better picture of their unique skillsets.
Sam Darnold
Measurements: 6'3, 221 lbs, 9.38-inch hands
Pros: Pocket Presence, Clutch gene
Cons: Mechanics, Turnovers
Darnold is widely considered the best quarterback in this draft class.
After a very strong redshirt freshman season, Darnold was pegged to be the clear-cut first overall pick, but he regressed a bit in his sophomore season at USC.
Despite this, Darnold's raw talent will make him a very appealing option for the Cleveland Browns at the top of the 2018 draft and reports have suggested he will fall no farther than the New York Giants with the second pick.
Perhaps Darnold's best trait on the football field is the way he processes what's going on around him.
Darnold has incredible processing speed and understands what's happening in real time and uses this ability to make the right read and put the ball where it needs to go. He is incredibly aggressive with his throws and will not hesitate to try and fit a ball into a tight window.
Darnold is an accurate thrower, especially when throwing short or intermediate-length passes and can lead receivers with anticipatory passes. He also shows good mobility and can make tough throws on the run.
Another one of Darnold's key traits is his toughness.
He is a former linebacker and uses this toughness to his advantage; he has never missed a game due to injury in his college career. Darnold's ability to shine in the clutch is also a huge check in the plus category when evaluating him. He has the ability to lead his offense on game-winning drives late in games when the pressure is on his shoulders.
At age 20, Darnold is the youngest quarterback in this year's draft class and the fact that he still was able to shine so brightly despite being much younger than many of his opponents is very promising for his future.
However, Darnold doesn't come without issues.
Chief among them is his propensity for committing turnovers. In college, he had about one interception and one fumble per game, an unacceptable number. Part of this can be chalked up to his aggressive, gunslinger mentality, which can cause him to force throws that aren't there, but he also needs to clean up his mechanics to succeed at the next level.
Darnold has the worst mechanics of any quarterback projected to be a first-round pick this season. He often doesn't set his feet before throwing, causing some of his passes to flutter. More importantly, he doesn't have a clean throwing motion and often winds up his arm before releasing the ball.
In today's NFL, where quarterbacks need to be precise with their timing and throws, Darnold will need to speed up his throwing motion to become a truly elite quarterback.
Despite having generally good arm strength and accuracy, he also struggles with throwing the deep ball. This is a fixable problem and one that could be caused by his poor mechanics, but is a flaw in his tape nonetheless.
If Darnold can improve his mechanics and reduce his turnovers, he could be a star quarterback in the NFL, but those are two serious problems that threaten to derail his career.
Josh Rosen
Measurements: 6'4, 226 lbs, 9.88-inch hands




Pros: Mechanics, Incredibly smart




Cons: Injury-prone, Will try and throw balls into non-existent windows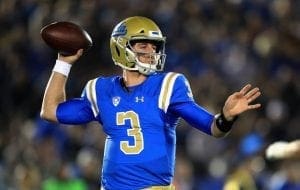 Josh Rosen has been a name known by NFL GMs for years now, but his draft stock has seemingly been overshadowed by some of the flashier names in this year's draft class.
Rosen declared for the draft after three inconsistent and injury-plagued seasons at UCLA with extreme highs and lows. So, what makes Rosen worth a top pick in this deep quarterback class?
Any discussion of Rosen should begin with his brain.
Rosen is possibly the smartest player entering the NFL draft at any position, something incredibly valuable for a quarterback. He can look at the defense and immediately begin dissecting it in his head before plays start and he uses this ability to make the right reads and throws on the field, a trait he shares with University of Tennessee legend Peyton Manning.
Rosen also has the best mechanics of any passer in the 2018 class.
His footwork in the pocket is outstanding, something that can be traced to his background playing tennis. Thanks to these clean mechanics, Rosen's accuracy is off the charts and second to only Mayfield's. Rosen can make a throw to any spot on the field and throws with incredible anticipation of how a play will develop.
One of his best skills is his ability to fit a ball exactly where a receiver needs it, whether that be away from defenders or towards the sideline. This accuracy combined with Rosen's very good arm strength makes him the best pure passing prospect in this year's draft. Rosen also has great pocket awareness and knows exactly how long he has to get a pass off.
However, Rosen isn't without his flaws.
A big problem with Rosen is his penchant for inopportune turnovers. This happens because Rosen often tries to fit balls into incredibly small windows, trusting his ability so much that he often will throw difficult passes into coverage that get intercepted.
Another huge problem with Rosen is his injury history.
Rosen is the most injury-prone quarterback in this year's draft class and battled shoulder injuries and concussions throughout his time at UCLA. This is exacerbated by the fact that Rosen is not a mobile quarterback and can be a sitting duck in the pocket for oncoming defensive players.
Because of this, the NFL team that drafts Rosen will need to protect him with a good offensive line.
Much has been said about Rosen's personality, but it seems that these concerns may be overblown.
Scouts have questioned whether or not Rosen truly loves football, but these claims have been shut down by Rosen and his coaches and hinge on circumstantial evidence at best and hearsay at worst.
Rosen should be a top 10 pick in this year's draft, with both a high ceiling and floor if he can avoid injury at the NFL level.
Josh Allen
Measurements: 6'5, 237 lbs, 10.13-inch hands




Pros: Arm strength, Prototypical quarterback size




Cons: Accuracy, Struggled vs Power 5 opponents
Here's the million dollar question in this year's NFL draft: What do we make of Josh Allen?
Think back to the blind quarterback comparison at the beginning of this article.
Allen's stats very closely resembled Jake Locker's (and Blaine Gabbert's and Christian Ponder's).
So, what do we do with a quarterback who by most statistical measures was a mediocre college player yet might go first overall?
When looking at those stats at the beginning of this article, Allen's poor numbers stick out like a sore thumb. Among the five quarterbacks recognized as first-round talents, Allen ranks last in yards per game, completion percentage, passer rating, Total QBR, yards per attempt and touchdowns.
A huge knock on Allen's résumé is Wyoming's strength of schedule.
It's true that Allen had less talent around him than any of the other quarterbacks who could go in the first round, but Darnold, Rosen, Mayfield and Jackson all played top-45 schedules.
Wyoming's strength of schedule in 2017 was 95th.
Allen played three Power five opponents in his two years as a starter at Wyoming: Nebraska in 2016 and Oregon and Iowa in 2017.
In those three games, Allen was a combined 48-96 (50%) for 427 yards (142.3 ypg) with one touchdown and eight interceptions. Wyoming lost those games by a combined score of 125-33.
Allen also doesn't throw with anticipation, often needing to wait until a receiver is open before passing.
So why is the world so in love with Josh Allen?
Well, as NFL analyst Michael Lombardi has said, the team that drafts Allen "has to see the glass as half-full."
Allen has all the tools to become a superstar quarterback at the NFL level. His measurables are off the charts and he looks like a prototypical quarterback. His arm talent is also outstanding: he showed off the ability to regularly launch 80-yard bombs at his pro day that surely had scouts salivating.
He's also very athletic for someone his size: at the NFL combine, he ran a 4.75 40-yard dash while recording a 33.5-inch vertical jump and a 9 foot, 11-inch broad jump.
His mechanics aren't perfect, but are generally pretty good and should improve and while NFL GMs may be concerned about the personalities of Rosen and Mayfield, Allen aced his interviews and wowed every personnel member he talked with at the combine.
So back to that million-dollar question: What do we do with Allen?
Will a team be so blinded by his potential that they dismiss his dismal stats?
Probably, yes.
Allen may have the highest ceiling of any of these five quarterbacks, but he also has the lowest floor. Whoever drafts him will need to have patience with their prized rookie, though, because as it stands now, Allen is not an NFL-caliber starter.
Baker Mayfield
Measurements: 6'1, 215 lbs, 9.25-inch hands




Pros: Accuracy, All-around skillset




Cons: Size, Off-field issues
Most scouts agree that either Rosen or Baker Mayfield is the most NFL-ready of the quarterbacks in the 2018 draft.
While Mayfield did play in Oklahoma's ridiculous spread offense, that is less of a problem than it used to be because so many NFL concepts come from today's college game.
Mayfield is a guy who just a few months ago lit up a Georgia defense with tons of NFL talent on it and if you look at the stats at the beginning of this article, his stand out from the rest as the best by a mile.
So, why isn't Mayfield projected to be the first quarterback taken?
Any criticisms of Mayfield start with his size.
He is the shortest, the lightest and has the smallest hands of any quarterback projected to be a first-rounder in this year's draft. While other guys such as Drew Brees and Russell Wilson have dispelled the notion that you need to be tall to be an elite NFL quarterback, Mayfield doesn't have the athletic background that either of those other two guys has.
Brees was a baseball and tennis standout growing up, two sports with a strong correlation to success at the quarterback position. Wilson, meanwhile, was such a good baseball player that he was drafted by the Texas Rangers.
While Mayfield is a talented dancer and has dabbled in gymnastics, he doesn't show the multi-sport background general managers would like to see from a guy considered short and slight by NFL quarterback standards.
He also has shown some character issues in the past that could scare off NFL teams, getting arrested for public intoxication and resisting arrest in early 2017 and being suspended for grabbing his crotch on the sidelines this past season.
On the field, Mayfield's main weakness is his footwork in the pocket.
He can drift around the pocket when looking for receivers and while he is a good athlete who can extend plays with his feet, he also often got himself into trouble at Oklahoma by running into the path of oncoming pass-rushers. This will be more pronounced in the NFL, where so many defensive ends have elite speed.
Once again, his height can be an issue in the pocket: he had multiple passes batted down at the line of scrimmage in the Senior Bowl.
With all of this said, Mayfield has an all-around skillset most quarterbacks would dream of.
He is the most accurate passer in this year's draft and rarely misses his throwing window, even while on the run. He is also an anticipatory thrower and is capable of throwing his receivers open, a skill that becomes doubly important in the NFL.
He has good mobility for a quarterback and while this won't be as pronounced in the NFL, he will still be able to extend plays and scramble for first downs. Despite his size, he has good arm strength and can hit his receivers at all three levels of the field.
Mayfield also reads the field very well. He is able to diagnose the defense before the play happens, recognizing blitzes and throwing to the space the blitzing defender vacates.
He is an excellent decision maker and rarely turns the ball over and shows his advanced skillset when throwing to tight windows: he is a master of throwing over and around defenders.
This can be seen with his shockingly low interception totals in college.
While Mayfield may have a lower ceiling than some of the other quarterbacks in this draft, his floor is incredibly high and he should be a productive passer from day one with the potential to become a star.
Lamar Jackson
Measurements: 6'2, 216 lbs, 9.5-inch hands
Pros: Athleticism, Throwing under duress
Cons: Mechanics, Accuracy
Let's start with this: Lamar Jackson is not a wide receiver.
He was more accurate than Allen was last year and even Jackson's 59.1% completion percentage undersells him a little because his receivers had a drop rate of 12%, more than any of the other four first-round quarterbacks.
So, say it with me: Lamar Jackson is not a wide receiver.
Now that that's out of the way, let's take a long look at the former Heisman winner.
Jackson was a superstar in college and the first thing you notice when watching him play is his game-breaking speed. In his junior season at Louisville, Jackson ran for 1,601 yards and 18 touchdowns, averaging 6.9 yards per carry. The year before, he ran for 1,571 yards and 21 touchdowns.
Jackson is athletic enough that running will continue to be an effective weapon for him even as the speed of the game increases as he takes the step to the NFL. He also remarkably did not miss a single game due to injury in his entire college career, which is surprising due to the nature of his play.
While running puts him at risk for more injuries, his balance and instincts often keep him away from big hits. This happens because Jackson is such a gifted runner: the game often slows down for him and he makes moves before anyone on the defense can react to them. He will need to emphasize sliding and running out-of-bounds more in the NFL, but his running doesn't make him as injury-prone as it might suggest.
Jackson's passing, meanwhile, is more of a mixed bag, but he is more than capable of making tough, NFL throws on a regular basis.
Jackson has a very strong arm and can fit balls into tiny windows both in the pocket and on the run. He has an unorthodox throwing motion, but uses it to get rid of the ball in the blink of an eye with a flick of his wrist. He also has a phenomenal pocket presence, contrary to traditional misgivings with mobile quarterbacks and uses his athleticism to evade pass rushers while keeping his eyes downfield.
Furthermore, unlike quarterbacks such as Mayfield or Oklahoma State's Mason Rudolph, who played in simplified spread offenses in college, Jackson played in a complex, NFL-style offense under Bobby Petrino and should be able to read defenses at the next level.
However, Jackson's accuracy can be spotty and much of this can be traced to his inconsistent mechanics. He keeps his feet very close together in the pocket, which results in missed throws. Jackson has a tendency to overthrow receivers on both intermediate and deep throws and his college completion percentage reflects this.
He also struggled against SEC defenses in bowl games in both his sophomore and junior seasons, although he did play incredibly well against the best defense in college football, Clemson, in 2016.
Still, a lot of Jackson's gaudy stat totals came against mediocre defenses and the transition to throwing against NFL secondaries could be a rough one for him.
The big thing with Jackson is going to be how he's utilized at the NFL level.
If the team that drafts him recognizes his skillset and builds an offense around what Jackson can do well, Jackson could look like the second (better?) coming of Michael Vick.
If the team that takes him tries to fit their dynamic rookie into a traditional offense, they're setting him up to fail.
Written by: Jacob boughter
Edited by: Sam Forman and Matthew Peterson