The 2018 NFL Draft was last week and much of its pre-draft hype surrounded this year's ballyhooed quarterback class.
Five quarterbacks were selected in the first 32 picks, the most since 1983. Before the draft, I wrote an article breaking down the strengths and weaknesses of the five first-round quarterbacks in the 2018 NFL Draft.
Now that the dust has settled and those five signal-callers have found their new teams, let's break down how each one fits with his new franchise.
Baker Mayfield, Cleveland Browns
Cleveland surprised many by taking Baker Mayfield with the first overall pick, but according to multiple post-draft reports, Mayfield was the hottest quarterback commodity in this year's draft.
He's the oldest quarterback that was taken in the first round and will be NFL-ready from his first day in the league, but Mayfield will have to earn the starting job in 2018 from Tyrod Taylor.
And not to get ahead of myself here… but do the Browns suddenly have a good offense? They have weapons everywhere, with Carlos Hyde, Nick Chubb and Duke Johnson in the backfield and an above-average offensive line led by guards Joel Bitonio and Kevin Zeitler.
Mayfield and Taylor will have plenty of good receivers to throw to, too, with Jarvis Landry, Josh Gordon, Corey Coleman, Antonio Callaway and David Njoku leading the way there.
Don't look now, but this could be a legitimately explosive offense if they get good production from the quarterback position. Taylor will likely start week one, but will probably have a short leash, so don't be surprised if Mayfield plays sooner than later.
Somehow, someway, Mayfield is in a perfect place to succeed in Cleveland.
Sam Darnold, New York Jets
Darnold was expected by many to go to the Browns or Giants, but slipped to the third pick where the New York Jets picked him up.
Like all five of these first round quarterbacks, it's possible that Darnold starts his career on the bench: ahead of him on the depth chart are 38-year-old Josh McCown and the recently-signed Teddy Bridgewater.
McCown had a surprisingly good season starting for the Jets last year and Bridgewater is finally healthy after a gruesome knee injury two years ago. If Darnold beats the two veterans out for the starting job, though, he will be in a much tougher spot than Mayfield is.
New York's best offensive weapons are running backs Isaiah Crowell and Bilal Powell, along with receivers Terrelle Pryor and Robby Anderson, but other than that, pickings will be slim for Darnold. The team also doesn't have an established tight end on the roster and will not have a very good offensive line to protect their prized quarterback.
If Darnold is able to beat out McCown and Bridgewater to start at quarterback, he will have his work cut out for him in an uninspiring Jets offense.
Josh Allen, Buffalo Bills
The biggest question mark of the draft was where Josh Allen would go and the Buffalo Bills answered that by trading up to the seventh overall pick to draft him.
As I wrote in my pre-draft scouting report on these five quarterbacks, Allen is not currently NFL-ready but has untapped potential. He will likely start the 2018 season on the bench behind a new face in Buffalo: former Alabama quarterback AJ McCarron.
Bills general manager Brandon Beane told reporters this week that offensive coordinator Brian Daboll has "very specific plan" for Allen that will likely take advantage of his immense arm strength.
Whoever emerges from training camp as the Bills' week one starter will have solid talent around him, led by star running back LeSean McCoy and goal-line bruiser Chris Ivory.
They will also have a decent cast of receivers to throw as well, including red-zone target Kelvin Benjamin, second-year pro Zay Jones and tight end Charles Clay. The Bills also had one of the best offensive lines in the NFL last season, but that unit should take a huge step back this season.
The Bills' line took significant losses after guard Richie Incognito and center Eric Wood retired and tackle Cordy Glenn was traded. Allen likely won't crack the starting lineup for the Bills this year unless he comes in better than expected or McCarron underperforms, but the Bills offense around them should be a middle-of-the-pack unit in the league.
Josh Rosen, Arizona Cardinals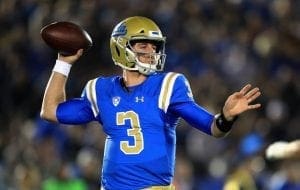 Perhaps the most talented quarterback in the draft, Josh Rosen fell to the tenth pick before the Cardinals traded up to snag him.
Rosen is NFL-ready and could start for many teams around the league, but the Cardinals just signed Sam Bradford to a huge contract for the next two seasons.
Despite this, it's not out of the question that Rosen wins the job at some point during the season and if he does, he will be greeted with the best weapon on any of these five offenses: running back David Johnson.
Johnson missed most of the 2017 season with a wrist injury, but in 2016 racked up an unbelievable 2,118 scrimmage yards with 20 touchdowns.
Johnson may be a stellar runner, but he is also a former college receiver that can line up anywhere on offense. This will help Rosen immensely, as he'll have a true three-down superstar back alongside him in the backfield. Rosen also has some nice targets to throw to, led by veteran Larry Fitzgerald, speedster JJ Nelson and rookie Christian Kirk, although the Cardinals don't have a great tight end on their roster.
However, the Cardinals do not have a great offensive line and if they can't renegotiate guard Mike Iupati's contract, they may be forced to cut him. This is a huge problem, because Rosen is the least mobile and most injury-prone quarterback of these five and may need a strong offensive line to reach his potential.
Of course, Bradford is also very injury-prone, so even if Bradford wins the starting job, Rosen might be thrust into action early in his career. Rosen has a nice set of weapons around him in Arizona, but will need a better offensive line to truly succeed.
Lamar Jackson, Baltimore Ravens
Of the five first round quarterbacks taken in the 2018 NFL Draft, Lamar Jackson is the most likely to start his career on the bench, as the Ravens employ former Super Bowl MVP Joe Flacco.
However, Flacco has only one more guaranteed year on his gargantuan contract and it's very possible the Ravens cut him after this coming season to avoid paying him $20 million in 2019-20.
This would open the door nicely for Jackson, who gets to learn for a year under Flacco and potentially less than that if Flacco's recent struggles continue.
Jackson also has three valuable names for a mobile quarterback on the Ravens sideline: offensive coordinator Marty Mornhinweg, quarterbacks coach James Urban and assistant head coach Greg Roman.
Mornhinweg and Urban both were on the Eagles staff when Michael Vick had his best statistical season in 2010 in Philadelphia and Roman was the offensive coordinator for the 49ers team that made the Super Bowl with Colin Kaepernick at QB.
Jackson also has plenty of talent around him in the new-look Ravens offense, including three offseason additions at receiver: Michael Crabtree, Willie Snead and John Brown.
Alex Collins had a nice season last year as the Ravens' starting running back and the team also has a good line led by star tackle Ronnie Stanley. College football fans can breathe easy, because Baltimore is the perfect place for Lamar Jackson.
Written by: Jacob Boughter
Edited by: Sam Forman