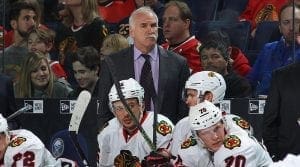 It is the end of an era in the Windy City as the Chicago Blackhawks have fired head coach Joel Quenneville after a disappointing 6-6 start to their season.
This comes on the heels of the Blackhawks missing the Stanley Cup Playoffs for the first time in Quenneville's tenure as head coach last season.
Quenneville, nicknamed Coach Q by fans, won three Stanley Cups while coaching Chicago since the 2008-09 season, winning the Cup in the 2010, 2013 and 2015 seasons.
However, since defeating the Tampa Bay Lightning in 2015, the Blackhawks have failed to win a
Stanley Cup Playoff series losing to the St. Louis Blues in 2016 and the Nashville Predators in 2017 who notably went on a Cinderella run to the Stanley Cup Finals.
The latter series was a sweep, which the Chicago Blackhawks have never seemed to recover from.
Quenneville finished with 452-249-96 record as the head coach of the Blackhawks.
Chicago announced that they would promote Jeremy Colliton to become the 38th head coach of the Blackhawks. Colliton was previously the head coach of the Rockford IceHogs of the American Hockey League, who are the primary minor league affiliate of the Blackhawks.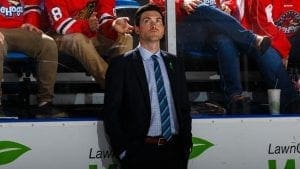 He was able to improve the IceHogs from a 25-39-9 record the year prior to his arrival to a 40-28-4 record in his first season as head coach, a 15-win improvement.
The IceHogs also made the semifinal round of the AHL Playoffs underneath Colliton last season.
Prior to his coaching career, he was a NHL player for the New York Islanders off and on between 2005 and 2011, splitting time between the Islanders and the Bridgeport Sound Tigers of the AHL, spending a year with the Swedish hockey club Rögle BK in 2009 as well.
Colliton is only 33 years old, which makes him the youngest coach in the NHL. He will make his debut on Thursday night as the Chicago Blackhawks will host the Carolina Hurricanes.