As college basketball gets started, one freshman has garnered a lot of national attention.
Coming out of high school he was compared to Lebron James, the No. 1 power forward in the nation and had over a million followers on Instagram before his senior year. If you don't know who I am talking about yet, I am referring to the one and only Zion Williamson.
Now, going to Duke came as no surprise at all, but when his friends Cam Reddish, R.J. Barrett and Tre Jones joined the mix, things got pretty interesting.
Now that Duke has all of this talent, the real question is, is Williamson overshadowing the other talent?
You could say he is or you could say he isn't.
Watching some pregame footage of Williamson has shown that he is a post offense threat, but that is not the entire Duke offensive game plan. He does not overshadow the entire roster simply because of this, three point shooting. If Williamson had a consistent jumper and three point shot, then maybe he would begin to over shadow the others.
However, Barret is a lethal three point shooter and a pure point guard who gets his teammates the looks that they need.
Along with that, Jones and Reddish are huge three point threats and can drive into the lane when needed.
Williamson is the big name on this roster that always jumps out at scouts and fans, but people need to realize that there is so much depth within this team that Williamson cannot be the sole star of this Duke team.
For being this young of a team and having these high expectations, you should fully be expecting a great run from this team. Even though they are very young, their skill is unmatched and exceeded expectations coming into this season.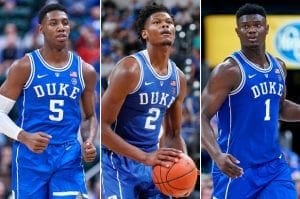 So despite the media attention Williamson may get, Duke as a whole is a loaded gun ready to destroy any team in its path.
Whether Williamson is a huge impact or not, this freshman class as well as this team is something to watch when March rolls around this year.