Written by:

JT Jackson (@jtj1996)

One month ago the Atlanta Falcons were 1-3 and looked like a team that would be nowhere near the playoffs.

However, with a 4-4 record after a sound beating of the Washington Redskins in the nation's capitol on Sunday the Atlanta falcons now find themselves right back in the wild card hunt. The falcons are currently seventh in the NFC and at the midway point of the season appear to be playing their best football.
On Sunday the Falcons had their best defensive performance of the season when the held Washington to only 14 points.
Foye Oluokun led the defense with five solo tackles and was a consistent presence in the Washington back field.
Safety Damontae Kazee recorded an interception with about seven minutes left to seal the game for Atlanta.
This kind of showing against a division leader might be exactly what this injury plagued Falcons defense needed to propel them into the second half of this season. The defense was not the only part of this Falcon team that may have found their "mojo" on Sunday. As, Atlanta's offense flexed some serious muscle as well.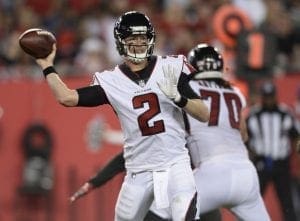 The unit was perfect on third down conversions heading into half time and was able to have success on the ground and through the air.
Matt Ryan was 26-38 passing for 350 yards and 4 touchdowns.
The only blemish came in the second quarter when Ryan threw an interception while trying to find Calvin Ridley in Washington territory on what appeared to be a mis-ran route by the rookie receiver.
Sunday's performance also marked Ryan's 50th 300 yard game in his career which is the 12th most in NFL history.
The real feel good moment in this game for fantasy owners, Falcons fans and receiver enthusiast came in the fourth quarter.
Julio Jones who is considered by many to be one of the best receivers in the league ended his 12 game touchdown drought with a 35 yard touchdown reception.
When Jones crossed the plane there wasn't a member of the Falcons staff without a smile on their face and it was easy to see why. During the drought Jones remained a hard worker and world class team mate.
The Falcons now have a three game winning streak and are heading to Cleveland on Sunday to face a browns team that has lost four straight games.