The SEC has reached its tenth week of the season and the matchups this week will likely determine the winners of each division and who will play in Atlanta for the SEC Championship on December 1st.
The current leader of the SEC West is Alabama at 5-0 in conference play and the SEC East has a tie between Georgia and Kentucky, who will play this week for the SEC East Championship.
Alabama can clinch the SEC West Championship this week with a win at LSU, but it the Tigers win they would not clinch the division and Alabama would still remain in SEC West title contention.
There are five SEC Conference matchups this week in addition to two non-conference games including Tennessee's homecoming game against Charlotte. Vanderbilt and Arkansas are off this week.
Here is a short rundown of the six matchups this week that involve SEC teams excluding Tennessee. Lines are as of Thursday, November 1st and the rankings are from the College Football Playoff Committee's pole.
20 Texas A&M (5-3)(3-2) @ Auburn (5-3)(2-3)
TV & Time: 12 PM on ESPN
Line: Auburn -4
Series: Texas A&M leads 5-3
Streak: Auburn has won 1 straight
Last Meeting: Auburn won 42-27 in College Station last season.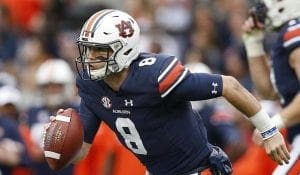 Synopsis: Texas A&M did win the meeting prior in 2016 when the two meet at Auburn as the Aggies outscored the Tigers 29-16.
However, the A&M is coming off a 28-13 loss at Mississippi State, while the Tigers were off last week.
Auburn did win their last game two weeks ago in Oxford against Ole Miss 31-16.
While both teams are essentially out of contention for the division title, this game should go a long way in determining bowl positioning, as the winner of this game will become bowl eligible. This will be Jimbo Fisher and Gus Malzahn's first time squaring off since the 2014 BCS National Championship Game in which Fisher's Florida State Seminoles scored a last minute touchdown on a pass from Jameis Winston to Kelvin Benjamin to defeat Malzahn's Tigers 34-31.
South Carolina (4-3)(3-3) @ Ole Miss (5-3)(1-3)
TV & Time: 12 PM on SEC Network
Line: EVEN
Series: Ole Miss leads 8-7
Streak: South Carolina has won 2 straight
Last Meeting: South Carolina won 16-10 in Columbia, SC in 2009.
Synopsis: This is the first meeting between the Gamecocks and Rebels in nine years, an insane amount of time for two conference opponents to not play each other.
The last meeting was a notable Thursday night game in which Steve Spurrier's Gamecocks led by Stephen Garcia upset Ole Miss coached by Houston Nutt and led by quarterback Jevon Snead.
Ole Miss has to go back to 2004 to claim their last victory over South Carolina by a score of 31-28. The Gamecocks defeated Tennessee last week on homecoming 27-24, while Ole Miss had the week off after a loss to Auburn 31-16. South Carolina looks to get one step closer to bowl eligibility while Ole Miss will attempt to gain momentum for their program as the Rebels are ineligible for a bowl due to NCAA violations during the Hugh Freeze era.
6 Georgia (7-1)(5-1) @ 9 Kentucky (7-1)(5-1)
TV & Time: 3:30 PM on CBS
Line: Georgia -9
Series: Georgia leads 57-12-2
Streak: Georgia has won 8 straight
Last Meeting: Georgia won 42-13 in Athens last season.
Synopsis: This may very well be the largest game in Kentucky football history, or at least since their major upset of top-ranked and eventual national champion LSU in 2007 behind Andre Woodson.
The Wildcats have a chance to win their first SEC East title ever in front of their home crowd in Lexington, however they will have beat Georgia to do so.
Which is something the Wildcats have not done since 2009, when they won in Athens 34-27. The Bulldogs are coming off a major victory over Florida in Jacksonville 36-17 last weekend. Meanwhile,  Kentucky pulled off a near miraculous comeback at Missouri 15-14.
The winner of this game will have a chance to play for a spot in the playoffs over the next couple of weeks while the loser will likely be eliminated from the conversation.
Missouri (4-4)(0-4) @ 11 Florida (6-2)(4-2)
TV & Time: 4 PM on SEC Network
Line: Florida -6
Series: Missouri leads 4-3
Streak: Missouri has won 1 straight
Last Meeting: Missouri won 45-16 in Columbia, MO last season.
Synopsis: Both of these teams suffered tough losses last week, as Florida was thoroughly defeated by Georgia 36-17 and Missouri lost in a heartbreaker to Kentucky 15-14.
This series has been a lopsided one, with the last five matchups having a margin of victory of at least 18 points. in fact only their 1966 Sugar Bowl game and the first SEC matchup between the two squads featured one score games.
Florida did win the last game between the two in Gainesville, with a 40-14 win over the Tigers two seasons ago.
Missouri is looking for their first SEC win while Florida is in a position to play themselves into top quality bowl game, potentially even a New Year's Six Bowl.
Louisiana Tech (6-2)(4-1) @ 18 Mississippi State (5-3)(2-3)
TV & Time: 7:30 PM on SEC Network
Line: Mississippi State -24
Series: Mississippi State leads 10-3
Streak: Mississippi State has won 3 straight
Last Meeting: Mississippi State won 57-21 in Ruston, LA last season
Synopsis: The other non-conference outside of Charlotte-Tennessee is Mississippi State hosting Louisiana Tech.
This one features a rematch of the game that infamously had Louisiana Tech having a 3rd and goal from their own 7 yard (yes, a 3rd and 93) after an 87 yard loss due to a high snap.
However, in this battle of bulldogs Louisiana Tech seems to be poised to give Mississippi State a stronger test as they are coming off a win on the road against Lane Kiffin's FAU team as well as a previous victory over a North Texas team on the road that demolished Arkansas.
Louisiana Tech last defeated Mississippi State in 2008 at home 22-14 underneath head coach Derek Dooley.
Mississippi State is coming off a solid victory over 16th ranked Texas A&M and are beginning to gain some momentum for the end of the season as they have some tough games upcoming, especially their trip to Alabama next Saturday. Louisiana Tech looks to gain their eighth ever win over a SEC school with their last one coming over Ole Miss in 2011, while Mississippi State looks to clinch bowl eligibility.
1 Alabama (8-0)(5-0) @ 3 LSU (7-1)(4-1)
TV & Time: 8 PM on CBS
Line: Alabama -15
Series: Alabama leads 52-25-2
Streak: Alabama has won 7 straight
Last Meeting: Alabama won 24-10 in Tuscaloosa
Synopsis: What has arguably become the premier annual matchup in the SEC, LSU-Alabama once again has plenty of SEC and National Championship implications.
LSU last defeated Alabama in what was termed the "Game of the Century" back in 2011 in overtime 9-6, but were shut down by that same Alabama team in the 2012 National Championship 21-0.
Alabama would win the SEC West with a victory on Saturday night, but LSU would still need to likely win out against Arkansas and Texas A&M to win the division. This game is considered by many to be the Crimson Tide's most difficult test during the regular season, as the closest margin of victory so far for the Tide is 22 points against Texas A&M.
Both teams were off last week, but both won their previous games with Alabama defeating Tennessee 58-21 and LSU defeating Mississippi State 19-3 respectively. The winner would be in control of their destiny in terms of making the playoff. If Alabama loses, they potentially still have a chance of making it with only one loss, but it seems like LSU could essentially be eliminated from the conversation with a second loss.