Tennessee hosts Kentucky on Saturn for the 114th edition of the rivalry formerly known as "Battle of the Beer Barrel".  
While the presentation of the barrel to the winner of the game ended in 1998 the hate these two have for each other is alive and well.
When Kentucky makes its way into Neyland Stadium Saturday they won't only see a stadium, but a house of horrors as the Wildcats haven't won in Knoxville since 1984.
Since then it's been 16 straight losses with an average score of 37.4 – 16.3 in favor of Tennessee.
But now it's Kentucky who's enjoying a 7-2 season with a bowl berth already in place who's looking to take advantage of Tennessee while they're down. A win would further Kentucky's opportunities at two things: a New Year's Six bowl appearance and an eleven win season which would be the first since 1950 when Paul "Bear" Bryant was roaming the sidelines in Lexington. A win would give them six wins in the SEC which would be the first time since the program went 6-0 in 1977.
Tennessee on the other hand?
Well the Vols are just trying to stay afloat and reach the six win mark to earn a spot in post-season play. Injuries, inconsistent play across the board and just overall being out-matched in some games have plagued Tennessee this season.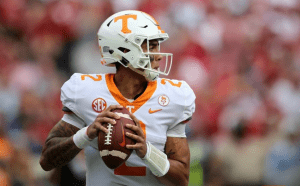 Now let's take a look at how Tennessee matches up with Kentucky and what the Vols need to do to reach win number five and stay on track for a bowl game.  
When you look at the numbers on offense for the Vols, nothing really jumps out as an amazing stat.
The offense is still just as bad as last year's, if not worse.
The unit is ranked 120th and there are 129 teams that play FBS-level football.
The struggles start on the offensive line where Tennessee has had two offensive lineman go down, Brandon Kennedy with a torn ACL vs West Virginia and Trey Smith whose blood clots have returned to his lungs and there's no timetable on when can return. The presence of these two, especially Smith who was a consensus All-American as a freshman in 2017 is missed as the Vols only average 128.4 yards per game, sitting at a dismal 110th in the country.
Tim Jordan leads the team in rushing attempts and yards, but has only found the endzone twice as it's Jeremy Banks, the freshman from Cordova, Tenn and Madre London, the graduate transfer from Michigan State who are tied for the most touchdowns with three. Ty Chandler leads this stable of running backs in catches at 19, yards receiving at 193 and has three touchdowns.
Looking at the passing game, Jarrett Guarantano has quietly had a good year throwing for 1,571 yards and nine touchdowns.
His main target has been junior Marquez Callaway who's caught 31 passes for 424 yards, but has yet to find the endzone.
Redshirt junior Jauan Jennings leads the wide receivers in touchdowns with three, while hauling in 26 passes for 335 yards and Josh Palmer has been the deep threat this year averaging 23 yards per catch on 18 receptions for 414 yards and two of those going for touchdowns.
Dominick Wood-Anderson leads the tight ends with 10 catches for 108 yards and a score, he's also a target that's being incorporated into the gameplan more and more each week.
Defensively for the Vols, Daniel Bituli leads the team in tackles with 57 total, 25 solo and 32 assisted.
Nigel Warrior is second on the team in tackles with 45 total and 28 solo. Kyle Phillips leads the team with three sacks and Bryce Thompson leads the team with three interceptions.
In special teams, Marquez Callaway has returned 11 punts for 101 yards and a touchdown coming last week vs Charlotte and Ty Chandler has returned seven kickoffs for 113 yards.
Brett Cimaglia is perfect on extra points, 25 for 25 and 8 for 11 on field goals with a long of 45 this season.  
Quickly previewing Kentucky, Terry Wilson is at quarterback for the Cats and has thrown for 1,214 yards with six scores.
Benny Snell Jr. is the man that the Tennessee defense needs to keep bottled up as Snell has rushed for 1,033 yards and 10 scores in 2018 so far.
Lynn Bowden Jr. leads a less than stellar receiving corps in catches, receiving and touchdowns. Bowden has caught 49 balls for 509 yards and three touchdowns.
Defensively the Wildcats have a very good front seven with Josh Allen leading the charge at linebacker.
Allen is second on the team in tackles with 59, 36 solo but also has 14.5 tackles for a loss and 10 sacks.
The man that leads the team in tackles is Darius West with 60, 34 solo and also leads the team in interceptions with three for 51 return yards.
Opposite of Josh Allen at linebacker is Kash Daniel who flies to the football and has 58 tackles, 27 solo and 2.5 tackles for a loss.
In special teams, Bowden Jr. returns both punts and kicks and does have a punt return for a touchdown. Kicking, Miles Butler has been perfect on extra points, 25 for 25 but shaky kicking field goals hitting just 3-7 attempts on the season, with a long of 40.  
Now, for a couple keys to a Tennessee win.
First, make Benny Snell into a "snail" and make Terry Wilson beat you.
As I said he's the do-it-all guy for Kentucky.
He's the reason they knocked off then ranked No. 14 Mississippi State at home putting up 165 yards on the ground and three touchdowns.
Tennessee's run defense is not the greatest, but Snell is running on a bad ankle after getting hurt last week against Georgia but is confirmed to be ready to go.
The Vols don't have the guys that always bring the lumber when they get to the ball carrier, but if you get to him enough and force Wilson to throw the ball the Vols could have a chance. Wilson has struggled this year and has failed to put up 200 yards passing in every game but one. He was benched during the Missouri game, but was able to come in on the last drive and lead a game-winning drive.
One game that sticks out is versus Vanderbilt where Wilson only threw nine passes, completing three passes for 18 yards, but did have a touchdown.
Another key as it is every week is keeping Guarantano off the ground and having no turnovers.
Guarantano hasn't thrown an interception since throwing two in a 47-21 loss to Florida back in September.
When this team doesn't turn the ball over and are able to keep it close heading into  the 4th quarter they have a chance to win the game.  
If Tennessee does these thing, they can beat the Cats for their 17th straight win in Neyland Stadium.
The SEC Network has the telecast with kickoff at 3:30 p.m. ET and you can also catch the game on the VolNetwork. Coverage begins at 2:00 p.m. ET with Bob Kesling, Tim Priest and Pat Ryan.