Tennessee played its second Southern Athletic Conference opponent in Lenoir-Rhyne on the season Tuesday night inside Thompson-Boling Arena and they would learn fast that this team was no Tusculum. 
In the first nine minutes of the game things went back and forth with the teams trading some early blows. Lenoir-Rhyne even held a slim 3-2 lead when Djibril Diallo hit a three pointer just two minutes in. Every time it was the Vols hitting a shot, the Bears found a way to answer.
Tennessee hit a three to make it 9-3, but Lenoir-Rhyne hit a three of their own moments later and made it 9-6.
The Vols went back down the floor and Jordan Bowden hit a three to bring the lead back to six, but then the Bears would hit another three of their own and it was back to a three-point game.
It looked as if Tennessee was starting to pull away as the lead stretched to 20-12 when Lenoir-Rhyne came out of nowhere and made it a one possession game again.
That's when Rick Barnes had seen enough and called a timeout.
"What we talked about the way we were playing defense, you know careless. We were playing hard, there's no doubt I thought we were playing hard. But we weren't playing smart, we were running guys off the line we weren't supposed to when we didn't have too," said Barnes.   
This was a timeout that the team needed.
The Vols flexed their muscles going on a 30-12 run to close the half out with a 20-point advantage as the Big Orange took a 50-30 lead into the locker room. Tennessee was clicking shooting 18-30 (60 percent) from the field and 3-9 (33.3 percent) from three. The Vols visited the free throw line 13 times and made 11 of them and combined for 12 assists on just four turnovers in the half.
Defensively the Vols turned the pressure up forcing 10 turnovers and held the Bears to 10-35 from the field (28.6 percent) and 7-20 (35 percent) from three. Jordan Bone and Kyle Alexander led the way at halftime with 12 points apiece, Grant Williams added nine and Bowden added six more.
Alexander finished with 16 points, an assist, four blocks and a steal.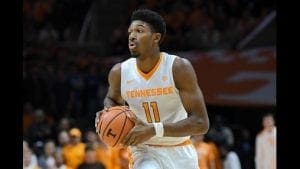 "He's better. Kyle is a better player", Barnes said.
"I mean I looked at our team and one I think he's physically a different player who's still got to get tougher with the ball. You know he's gotta learn to pop his elbows out and take up space. He can shoot the ball, he's a better free throw shooter than he showed you tonight too," Barnes added.
The success for Tennessee continued into the second half as they opened on a 19-0 run and held the Bears scoreless until the 11:14 minute mark. The defense that started the suffocating in the latter part of the second half held Lenoir-Rhyne to 4-32 (12.5 percent) from the field and eliminated the Bears deep ball forcing Lenoir-Rhyne to go 0-15 in the second half.
Coach Barnes also complimented the rotation saying "What I liked even from the beginning, I thought our rotational guys were really, really good. I thought that Yves Pons early and I thought that John Fulkerson did a lot of really good things. Derrick [Walker] settled down and came back and did it."
Adding, "We knew going into the game we'd be shorthanded with Lamonte [Turner] being out and Jalen and we were concerned with different players being out there." 
It was a very well-rounded win for sixth-ranked Tennessee who's crowd of 16,156 will go down as the 13th most for a home-opener and the largest crowd since 2012. The win also improves their record in home-openers at Thompson-Boling Arena to 29-3.
Bone led all scorers with 18 points, three assists and two steals and as mentioned earlier Alexander added 16 points to finish just two point shy of leading the team.
Admiral Schofield and Williams both added 13 to go with Bowden's 11.
But what was most impressive was Pons' seven points and three impressive blocks  
Tennessee will take the rest of the week to prepare for Louisiana-Lafayette this Friday.
The game will kick off the "Salute to Service" weekend for Tennessee, as football will follow on Saturday and women's basketball on Sunday.
The game tips off at 7 p.m/ ET on the SEC Network+.
Photos courtesy of UT Athletics.