Ahhh Christmas time is upon us and the football season is wrapping up quicker than most would like.
With Christmas approaching and college football's regular season closing, it got me thinking; I really love SEC football. I also have watched the movie Christmas Vacation about 400 times. There has to be some way to tie together my two loves right?
What if every SEC team's football season could be described as a character from the movie?
Sounds like a tall order, but that's exactly what I've done.
Which character best personifies your team's season?
Read along and find out, but fair warning – you might not like who you get.
Alabama- Mary
Mary is the beautiful woman that Clark runs into at the clothing store and later fantasizes about her swimming in the pool he wishes to open at his house.
Mary is used throughout the movie as a symbol of perfection.
She's something that Clark and undoubtedly others, chase after even though they know they can never have her.
If that isn't Alabama's football season in a nutshell, I don't know what is.
This team has been untouchable all season and no one looks like they can stop the Crimson Tide.
Teams lust after Bama much like Clark with Mary. They will continue to fantasize about one day being the top dog, but for now it's nothing more than a fantasy.

Auburn- Clark Sr.
Movie Quote:
Clark: Our Holidays were always such a mess.
Clark Sr.: Oh yeah.
Clark: How'd ya do it?
Clark Sr.: I had a lot of help from Jack Daniels
Clark Sr. has learned something that Auburn fans are also rapidly having to come to grips with.
You can never get your hopes up too high. We've seen this story with Auburn before. Early in the season there is a lot of buzz around the program about how they can contend for the SEC West and maybe beat Alabama.
However, after eight weeks of the season go by, the team doesn't live up to expectations and looks like a mess.
That is precisely what happened this year.
If Auburn fans can't learn from Clark Sr. to keep their preseason expectations low, then maybe they can take one lesson from him – Jack Daniels will get you through the torment.
Ole Miss- Ellen Griswold
Movie Quote:
Ellen: I think it'd be best if everyone went home… before things get worse.
Ellen's quote epitomizes the final stretch of the Rebel's football season.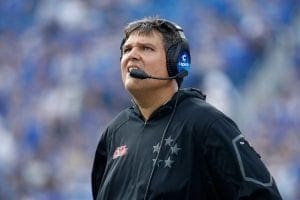 After eight games, Ole Miss was 6-2 with their only losses coming to Alabama and LSU.
Sure, they didn't have any great wins, but they also didn't have any bad losses.
Then Ole Miss played Auburn, South Carolina, Texas A&M, Vanderbilt and Mississippi State.
In that stretch, the Rebs went 0-5 to close out the season.
So yeah, Ellen hit the nail on the head when she said, "I think it'd be best if everyone went home… before things get worse."
With the departure of quarterback Jordan Ta'amu though, things may in fact get worse. Maybe everyone should just stay home.

Mississippi State- Frances
Movie Quote:
Frances: Talk about pissing your money away. I hope you kids see what a silly waste of resources this was.
As Clark fails to light up the neighborhood with his house covered in lights, all Frances knows to do is sit back and mock him for wasting his time and money.
If any SEC team can ride a high horse like that and make fun of wasted money in other progrms, it's Mississippi State.
The Bulldogs paid head coach Joe Moorhead $2.7 million this year. That salary is the second lowest mark in the SEC.
Despite the low Salary, Moorhead led his team to a decent season that has resulted in being ranked number 18 in the latest CFP pole.
That puts them as the sixth highest ranked SEC team with the second lowest head coach salary. That's some bang for your buck. To put it in perspective, MSU paid their head coach roughly $337,500 per win while Arkansas paid Chad Morris $1.75 million per win. So, hats off to MSU, they have earned the right to talk about other teams pissing their money away.
LSU- Swat Officer
The Swat officer, much like most law enforcement, is just doing his job. He patrols the neighborhood and helps to keep everything in check.
Sometimes, that entails ruining all the fun. That's what LSU did; they kept teams in check and ruined a lot of team's fun.
The Tigers started by pounding a Miami team that had high hopes coming into the season. Later in the season, LSU did the same thing in back-to-back weeks to Georgia and Mississippi State.
Under Coach O, nobody really knew what to expect from this LSU team.
What they got was a big mix up in the top of the SEC and the CFP poll.
Arkansas- Snots
Movie Quote:
Eddie: A word of warning though: If he does lay into you, it's best to just let him finish.
This one is simple.
Snots is one of the ugliest dogs to ever appear in a movie. The nasal condition doesn't help at all.
Arkansas football was just plain ugly this season. Much like Snots having a problem with "layin in" on people's legs, the Arkansas football players showed they were more interest in flirting with Mississippi State cheerleaders rather than playing football.

Texas A&M- Aunt Bethany
Movie Quote:
Uncle Lewis: They want you to say Grace… The BLESSING!
Aunt Bethany: (everyone bows their head for prayer) I pledge allegiance to the flag of the United States of America and to the republic for which it stands. One nation, under God, indivisible, with liberty and justice for all.
Clark: Amen.
More so based on the school than the football season, the patriotic Aunt Bethany is the perfect fit for Texas A&M.
Housing one of the largest and most respected ROTC programs in the nation, the Aggies student section is filled with men and women in uniform. If Aunt Bethany could see it, she would be proud.
Missouri- Todd
Movie Quote:
Todd: Hey Griswold, where do you think you're gonna put a tree that big?
Clark: Bend over and I'll show you.
Todd: You've got a lot of nerve talking to me like that Griswold
Clark: I wasn't talking to you.
Much like the next door neighbor Todd, Missouri is the outsider.
Most SEC fans would tell you if one team doesn't belong in the SEC, it's Missouri.
Also, much like Clark blatantly disrespects Todd, the rest of the SEC has absolutely zero respect for Missouri.
Even in a season like 2018 where they are currently number 24 in the CFP rankings with a big time NFL prospect at quarterback, nobody seems to care.
Sorry Missouri, but whether it's fair or not, you're viewed as irrelevant.
Kentucky- Cousin Eddie
Movie Quote:
Eddie: You surprised to see us, Clark?
Clark: Oh, Eddie… If I woke up tomorrow with my head sewn to the carpet, I wouldn't be more surprised than I am now.
Cousin Eddie and Kentucky's football season are a match made in heaven. Both of them appear out of nowhere.
Coming into the season, nobody expected Kentucky to be a constant in the AP poll and CFP rankings.
Kentucky blindsided the nation just like Eddie shocked Clark. However, Eddie wasn't invited and he certainly doesn't belong.
With an ugly win against Missouri, a loss to Georgia and an embarrassing loss to Tennessee, Kentucky proved they also don't belong.
But just as Eddie is naive enough to think he can just invite himself to the party and join the family, Kentucky fans (just for a few weeks), were naive enough to think they could stick around with the big boys.
Tennessee- Clark Griswold
Movie Quote:
Clark: WORSE? How could things get any worse? Take a look around here, Ellen. We're at the threshold of hell!
The last two season of Tennessee football could be described as the "threshold of hell." It has left many people asking "how could things get any worse?"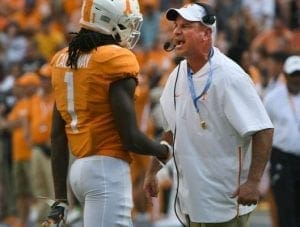 Tennessee fans will tell you that they weren't that bad this season because they had two ranked wins over Auburn and Kentucky.
Newsflash, both of those teams have proven to be very mediocre and Tennessee is on a three game losing streak against Vanderbilt.
But let's get down to why Tennessee is deserving of being Christmas Vacation's star, Clark.
All Clark wants to do is have a good old fashioned Christmas where he can make the whole family happy.
His biggest problem is that the family is never happy with anything. In the case of Tennessee, the team's new coach, Jeremy Pruitt and athletic director Phillip Fulmer are desperately searching for a way to make an always disgruntled fan base happy. Good luck with that.
To cope with awful product on the field, Tennessee is planning a $340 million upgrade to a decrepit Neyland Stadium.
Sound familiar?
Seems a lot like Clark distracting himself from his problems by putting way too much time and money into an absurd amount of Christmas lights. Clark Griswold does always have hope though and Tennessee fans do too. Depending on this year's recruiting class and the offensive coordinator hire, maybe… just maybe there's some hope for the Vols to get back on track.
Vanderbilt- Ruby Sue
Ruby sue has a sad backstory. She's grown up with imbecilic parents who can't get jobs, therefore cannot afford to get her a Christmas present.
Despite the sadness that her life brings, Ruby Sue always seems to have this hope for a better future, though it may never come. Vanderbilt is the same way.
After a long history of a losing football program, Vanderbilt will go to a bowl game this year for the second time in three years.
This is not impressive to most SEC schools, but for Vanderbilt it gives them hope of a potential SEC East contending football team on the horizon.
However, much like Ruby Sue, it's only hope.
Nobody believes it will actually happen.
Georgia- Margo
Movie Quote:
Margo: You just march over there and slug that creep in the face!
Todd: I can't just attack someone.
Margo: All right then, if you're not man enough to put an end to this s***, then I am!
The Griswold's neighbor, Margo, is sick of all the shenanigans going on next door.
After a confrontation with her husband, she realizes there is only one way to try to end the madness and that's to do it herself.
That is the mentality of Georgia. Unless you're an Alabama fan, you are most likely sick of seeing Alabama beat up on virtually everybody each year.
Georgia is too, the only difference is Georgia has the opportunity to go toe to toe with Nick Saban's team in the SEC championship game with an opportunity to "put an end to this s***."
When Margo confronted the beast, it didn't work out to0 well for her. Will Georgia suffer a same consequence?
Florida- Santa Clause
Remember the cartoon at the beginning of Christmas Vacation where Santa comes in the house and wrecks everything in a matter of minutes? That's Florida.
After an atrocious 2017 campaign, the Gators hired Dan Mullen. Just like Santa can make people very happy over the course of one night, Mullen turned the entire Florida program around seemingly overnight.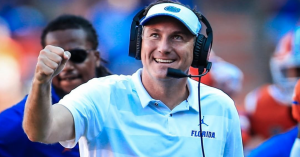 Now Florida looks like they could contend for the East next year after a strong showing this season.
Not only did the arrival of Mullen help bring the program back into relevance, but it also allowed Florida to wreck LSU's house by handing the Tigers their first loss of the season which may prove to be the difference between CFP birth and a regular bowl game.
South Carolina- Rusty
Movie Quote:
Clark: Russ, we checked every bulb, didn't we?
Rusty: Sure, dad.
Clark: Hmm… Maybe we ought to just go up there and check…
Rusty: Oh woo! Look at the time. I gotta get to bed. I still gotta brush my teeth, feed the hog, still got some homework to do, still got those bills to pay, wash the car…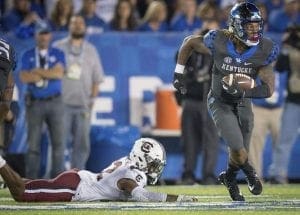 Rusty wants to be there for his dad—until real work becomes involved.
South Carolina wants to win—until a real opponent gets involved.
South Carolina beat the teams they were supposed to beat this year, but when someone of real caliber came up on the schedule, the gamecocks would check out and have to go to bed, brush their teeth, feed the hog… you get the picture.
When looking at USC's schedule, they played against four pretty good teams in Georgia, Texas A&M, Florida and Clemson. In each one of those games, the gamecocks lost. What makes Rusty even more fitting for South Carolina is the fact that he's the little brother of the family; he's the runt.
In a year where some thought South Carolina could sneak up on Georgia and steal away the east, the Gamecocks proved that they are still a little brother to most schools in the SEC.