Written by:

TJ Jackson (@jtj1996)

It is no secret that one of the best things about college sports are the deep rooted rivalries. Collegiate rivalries can span over multiple sports, defy conference ties and can be among the best rivalries in sports.
An out-of-conference rivalries might mean nothing as far as the quest for a conference championship goes, but for fans, alumni, students, coaches and players they often mean everything.
Many schools have a clear cut out of conference rival like Georgia and Georgia Tech or South Carolina and Clemson, but others aren't as fortunate.
As for the University of Tennessee, the Vols actually have some good candidates, but despite that they do not currently have a clear cut non-conference rival they play even every other year.
The most compelling candidates are Memphis, Virginia Tech, Georgia Tech, West Virginia and Oklahoma.
Oklahoma Sooners, Big 12 
Recent matchups with the Sooners in football have been fairly memorable, but not in a good way for the Tennessee faithful.
The Volunteers also often run into the Sooners in Softball, a series where the Lady Vols have seen success.
However, the problem with a rivalry against Oklahoma is that the schools are just too far apart (862 miles) and the Sooners already have established rivals in Oklahoma State and Texas.
Plus the Sooners would likely rather add a school like Missouri, Colorado or Nebraska who are all closer and they have more ties to then a school as far away as Tennessee.
Although, while maybe not right away on the gridiron a match up between Oklahoma and Tennessee would be very competitive in several other sports.
West Virginia Mountaineers, Big 12
 Staying in the Big 12, the next option for a rival for the Vols would be the West Virginia Mountaineers.
Unlike the Sooners, the Mountaineers don't have a deep rooted in-conference rival and the distance between the two schools is only 421 miles.
Culturally, WVU isn't too different from UT and the schools are going to get more familiar with each other in the 2018-19 sports year after a neutral site football game (first meeting between schools) and a highly anticipated match-up in men's basketball for the Big 12-SEC Challenge in Knoxville.
West Virginia has an arch-rival in Pitt, but that game has been lost recently due to conference changes.
If the Volunteers can have some more matchups against the Mountaineers a new rivalry could emerge for both schools.
Georgia Tech Yellow Jackets, ACC
In the ACC, the top options for an out-of-conference rival for Tennessee are Georgia Tech and Virginia Tech.
In recent years, the Volunteers have had a competitive series against the Yellow Jackets on the hardwood. Including a 66-53 game early this season, where No. 7 Tennessee walked out with a hard fought win on November, 17th.
They also rekindled the football rivalry in 2017 for an absolute classic for a "neutral site game"(game was in Atlanta).
The Yellow Jackets have a clear archrival, however, in the University of Georgia and because of that I doubt their fan base would ever see Tennessee as a top rival.
You would also have to imagine that Georgia Teach would not want to play to SEC schools in football each year.
However, if you take away football you could have a competitive yearly match up between the two schools in several sports.
Virginia Tech Hokies, ACC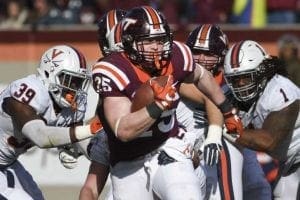 Virginia Tech also has an arch-rival in the University of Virginia, but if the Vols and Hokies met more often a rivalry that spans multiple sports could sprout between the schools.
However, with the Hokies and Cavaliers both playing in the ACC the door could be opened for UT and VT to become rivals.
It would be more if a want to and will they question, then a question of can they make it happen.
Geographically, the schools are relatively close with only 236 miles separating the two and they have recent history in football and women's basketball.
In 2016, the Vols and Hokies broke the record for highest attendance at a college football game at the Battle at Bristol, where the Vols won 45-24 at Bristol Motor Speedway.
Memphis Tigers, AAC
Finishing the list of out of conference options that could become a rival for the Volunteers is the Memphis Tigers.
The fact that they are in state is huge and many Volunteer fans reside in Memphis. The history between the schools is rich in both football and basketball and many Tigers fans already consider the Volunteers a top rival.
While, Tennessee athletic director Phillip Fulmer said this summer that there were "no plans" to begin a football series with Memphis, the two teams have come to terms on a series on the hardwood.
The two teams will play each other for each of the next three college basketball seasons, starting December, 15th at the FedExForum in Memphis and this should be a hotly contested series.
Eleven years ago, the two teams met for a highly publicized No. 1 vs. No. 2 matchup during the 2007-08 season.
Now, with a Top-10 Tennessee team and a fast-rising Memphis squad under new coach Penny Hardaway, sparks could fly over the next few seasons.
The big issue here would be making it a rivalry that could be played yearly in multiple or all sports.
Yes the Vols and Tigers could and should equal a great game in men's basketball on a yearly basis, but the same can not be said for Memphis and the Lady Vols.
You also have Softball teams that are on two totally different levels and scheduling for football could get tricky if you add a group of five team in Memphis to the Vols schedule each year.
With matchups against most of these schools on the horizon there is plenty of opportunity for a new rival to emerge for Tennessee. Will it be a school from this list? Only time and Vol fans will tell.