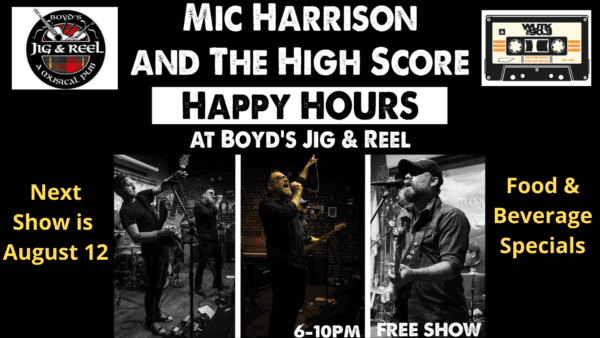 Ninety Point Three The Rock proudly presents the return of Mic Harrison and the High Score's Second Friday Happy Hour summertime concert series at Jig and Reel.
Join us for a band that will make you feel better about the world with their great rock 'n' roll and honky tonk songs. The last show of the summer is happening on  August 12th from 6:00 to 10:00 (and maybe a little longer if the band and crowd are both feeling it).
Mic and the guys have traveled the country, performing at festivals from Bonnaroo to Easyriders Rodeos, headlining bills from concert halls to the stickiest bars, opening shows for everyone from Billy Joe Shaver to Huey Lewis and the News to ZZ Top, and recording a terrific single with classic country singer Con Hunley for the past 12 years.
Roger Alan Wade will be joining Mic for this final show!
https://www.facebook.com/events/350403253853357/