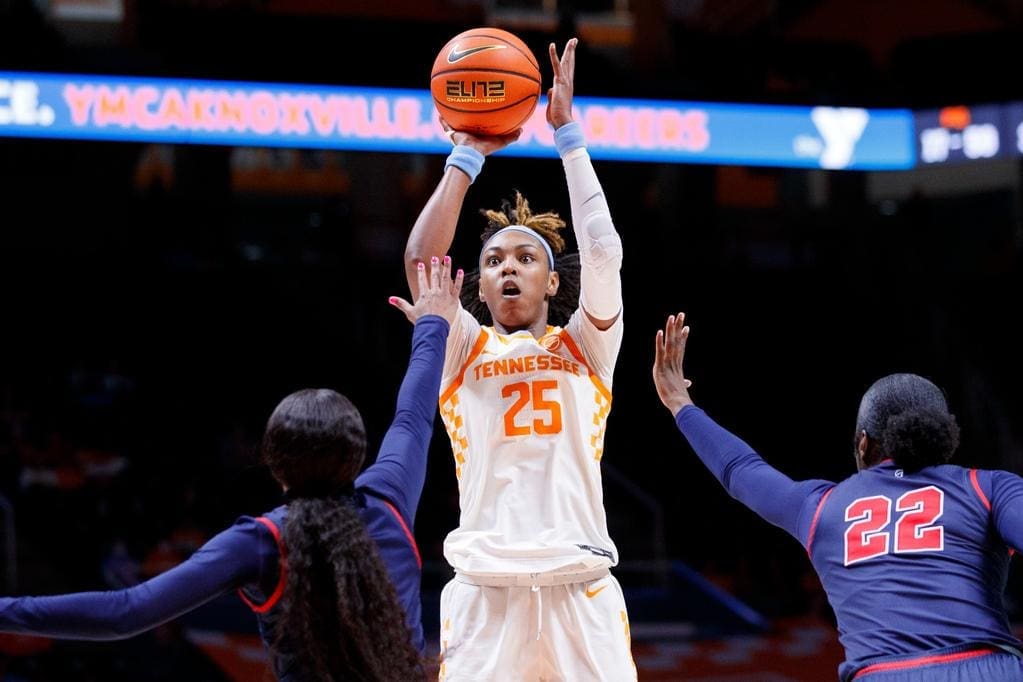 By Dominic Throngard
KNOXVILLE, Tenn. – The Lady Vols (17-8, 9-1 SEC) beat Ole Miss (18-5, 7-3 SEC) by a score of 65-51 on Thursday night, returning to their winning ways in the conference. 
The team started out hot in the first quarter before Ole Miss settled into a defensive groove and began making life more difficult for the Lady Vols. The team still led throughout the first half largely because of the performances of Rickea Jackson who put up 8 points in the first half and Jordan Walker who led the team in boards with 5.
 Both teams struggled to make shots in the first half however with UT going 11-36 and Ole Miss going an abysmal 8-31. Second-chance points proved useful for the Lady Vols who secured 12 in the first half. UT never trailed at any point in this one.
The second half got off to an exciting start with both teams going back and forth in the third quarter. Physical play dominated this game on both sides of the ball with each team fighting hard for turnovers and boards. Horston also got hot making back-to-back shots out of a timeout in the third and picking up an assist right after. Proving once again to be an offensive catalyst for this Lady Vols team. She continued to torch the Ole Miss defense in the fourth quarter and ended the night as the top scorer with 20. 
The Lady Vols came to play in this one and worked hard to secure a win after losing two in a row to top-five opponents in UConn and LSU. This win was a must for the team who needed to get back on track to give themselves a shot at competing for the conference in the final stretch of games this season. 
The Lady Vols program continues to seek to find its way back into the dynasty position it once held in the mythical and storied Summitt years. The fans remain hungry and with the season coming to a close soon the team is working hard to get itself into a good seed for the NCAA tournament. This win serves as yet another concrete stepping stone in the right direction for finishing out the season in a good spot for tournament play. 
"I talked to her about that and she didn't know what I was talking about," said Harper when asked about Horston being left off award shortlists. "She loves her team, and bottom line, she wants to win."
The Lady Vols will return to action on Monday, Feb. 6th as they head to Starkville to take on Mississippi State. Tip-off will be at 7 p.m. Eastern Time.