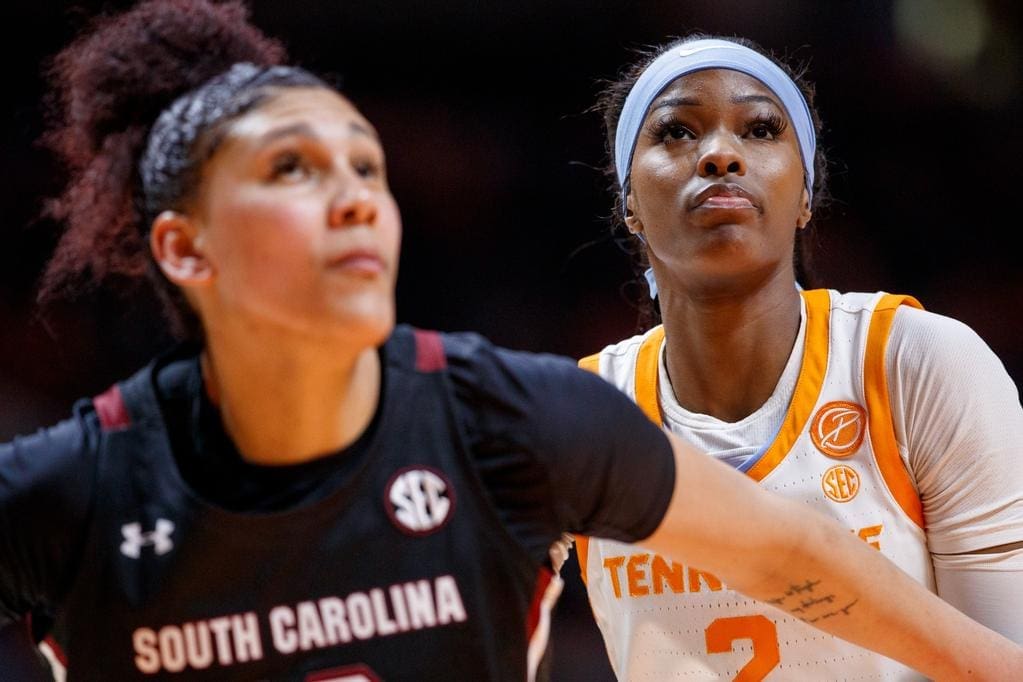 Chloe Levering 
KNOXVILLE, Tenn.– Tennessee fell to No. 1 South Carolina 73-60 Thursday night in Knoxville, but not before rallying in the fourth quarter.
The Lady Volunteers took the court in front of Tennessee and South Carolina fans alike, including Lady Vols legend Chamique Holdsclaw, for their last home game of the season. Despite a loss to the Gamecocks, Tennessee still came out to prove they can put up a fight against any team in the league. 
At the end of a back-and-forth first quarter, the Lady Vols went on a 9-0 run to lead 19-10 at the end of the first quarter with only 1 turnover to South Carolina's 4. Tennessee senior forward Rickea Jackson heated up early and ultimately gained her typical spot as the lead scorer of the game with 21 points at the final buzzer.
"I knew she (Jackson) would be a matchup nightmare for our players, because she can just score so well and she's real crafty with the basketball," South Carolina head coach Dawn Staley said following the game.
The Gamecocks slowly closed in on the Lady Vols' lead in the second quarter thanks to some quick points from Zia Cooke, before going on a 17-3 run to close out the first half. 
South Carolina's performance continued to grow in the second half where they went on a 6-0 run minutes into the 3rd quarter, but Tennessee wasn't going down without a fight. Tennessee rallied to come back after some primetime 3-point shots from sophomore forward Karoline Striplin, reaching only a 10-point deficit by the time there were 5 minutes left in the game. 
"Even though it's late in the season, and we're going against the number one team, I feel like we just gave it our all for our teammates," Striplin said. 
Tennessee proved they were not going down without a fight, and it did not go unnoticed by the Gamecocks.
"Tennessee is a team that's playing well at the right time," Staley said. "They will pay off come postseason."
It's another loss to a top-25 team for the Lady Volunteers, but these games with top-ranked opponents such as Stanford and LSU have been close, despite resulting in losses.
"I think we are still a talented team, you just have to take things one more level to get that win, and that's the growth we're still looking for," Tennessee head coach Kellie Harper said.
The Lady Vols face Kentucky as their final opponent of the regular season in Lexington this Sunday. The game will air at 2:00 p.m. EST on SEC Network.