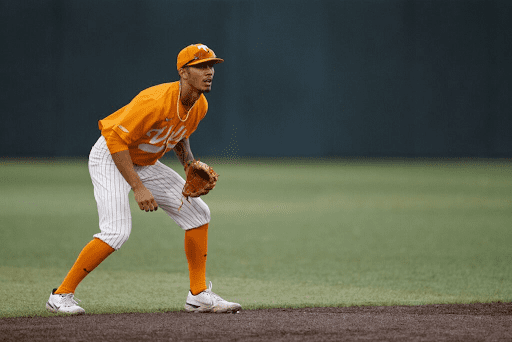 By Riley Haltom
KNOXVILLE, Tenn. – The No. 3 Tennessee Volunteers started their midweek matchup against Charleston Southern on a good note with a 6-1 victory on Tuesday afternoon.
This game marked the return of head coach Tony Vitello following his suspension as well as the debut of transfer shortstop Maui Ahuna for his first game as a Volunteer. Coach Vitello spoke about the moment the team found out Ahuna would be eligible to play.
"It was in the weight room, and he kind of took over from there. I believe there was a haka dance going on, all kinds of stuff," said Vitello. "It's one that goes in the memory bank for this team, and that's good because that's been a theme of this group, kind of finding themselves,  were trying to find out things about them, and trying to create memories along the way."
Coach Vitello applauded the team's resilience and how they handled his suspension and Ahuna's eligibility issues.
"Outstanding. About as well as they can. They're kids man. I think a lot of things because everyone has a voice, you can pick them apart and make them a bigger thing than they really are, and at the root of everything, the kids just want to play baseball."
The Vols held the Buccaneers scoreless through six innings thanks to the efforts of Zander Sechrist, who allowed just three hits, no runs, and five strikeouts through four innings, and Seth Halvorsen, who dished four strikeouts over 2 innings giving up only a solo home run. 
The win was driven by a strong night from Blake Burke, who went 3-5 with one home run, his fifth of the year, and five RBIs, and Jared Dickey, who went 2-4 with a solo shot, hist third of the year.
"It wasn't a lively night to hit the ball until the sun went completely down. Those two homers, Jared and Burke for us, and their guy juiced one too, those are out on any day, just wasn't a very lively day," said Vitello.
This game marked the first for Maui Ahuna in a Vol uniform, and he started his Vol career 1-4, just inches away from adding a homer of his own. Coach Vitello spoke about Ahuna's start as a Volunteer.
"At this point, I'm glad the kid gets to play baseball, to be honest with you. To see him out there and having success, now I probably needed to not act like a 3-year-old, I thought that first one was going over the fence," said Vitello. "He smoked that ball, and then for him to get his first hit out of the way. We talked about that after one of those games, just to gett a lot of those firsts out of the way is nice, so I'm happy the kid gets to do what he loves to do."
Austen Jaslove, who had been playing shortstop in Ahuna's absence, was moved to designated hitter for tonight's game. He spoke on how the move was a vote of confidence.
"It was definitely a confidence booster because they can trust my bat now. I'm once again glad I got to show what I can finally do, and I think I'll have more at-bats coming this season."
The Vols are back in action tomorrow to close out the midweek series against Charleston Southern. First pitch is set for 4:00 pm ET.