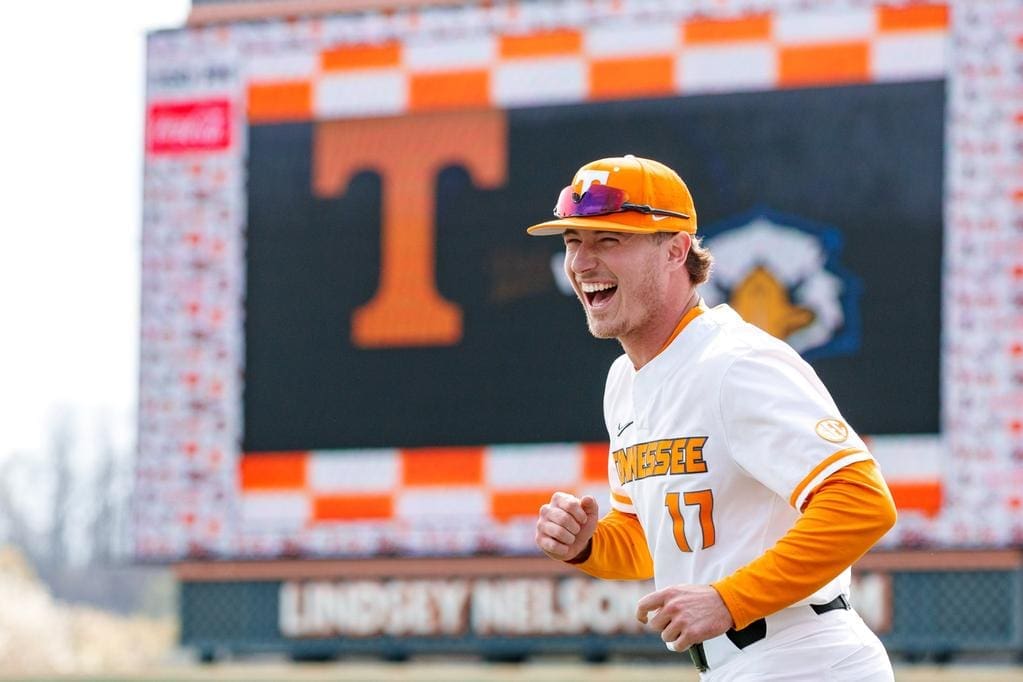 By Tucker Harlin
KNOXVILLE, Tenn. – No. 12 Tennessee won its first SEC series of the season with a walk-off 8-7 win over No. 21 Texas A&M on a warm Saturday afternoon at Lindsey Nelson Stadium. 
"These kids love playing in this environment," said Tennessee head coach Tony Vitello. "I know it is a tough environment to pitch in when you are the opposing team."
Sophomore utility man Jared Dickey stepped up to the plate in a tied game in the bottom of the ninth inning and launched a one-out sacrifice fly to right field that scored Christian Moore for the game-winning run to help the Vols (18-7, 2-3 SEC) collect their first SEC series victory of the season.
"I was just thinking about hitting the ball up the middle, but Dylan Dreiling gave me one of the best scouting reports I've gotten," Dickey said when discussing his final at-bat. "After seeing that curveball out, I knew they were going to try and challenge me with a heater inside to try and get me to roll over and get the out at home."
Dickey led the Tennessee offense going 3-4 at the plate while driving in a pair of runs. His seventh-inning triple helped the Vols turn a three-run deficit into a one-run game before the sophomore tied things up after scoring on a wild pitch.
On the defensive end, it was a shaky start for Tennessee's starting right-hander Chase Burns. The sophomore gave up a pair of runs in the first inning to give Texas A&M (15-8, 1-4 SEC) an early lead, much like in Friday night's game. However, Burns was able to settle down after the Tennessee offense found him a 4-2 lead thanks to Maui Ahuna's two-RBI double and Moore's sacrifice fly. Burns finished his first five innings with eight strikeouts while giving up just three hits and two runs. 
All was well for Burns until it came to getting the final out in the sixth inning. Burns gave up a game-tying double to A&M's freshman Jace Laviolette. Burns walked a pair of runs and left the game with the bases loaded as Tony Vitell amde the move to senior pitcher Kirby Connell.
The Aggies capitalized on the situation and scored a pair of runs off a walk and an error as well as another in the seventh inning to take a three-run lead. The bullpen was looking rough, but junior Andrew Lindsey quickly changed that by striking out three straight batters in the seventh inning.
"I really didn't know the score coming into the game, I just knew there was an opportunity to throw strikes and get outs," Lindsey said. "I did what I did, and our offense came back and gave us runs to tie it up."
After Lindsey shut down the Aggies, Tennessee's offense managed to tie the game up with Dickey's seventh-inning effort. The junior right-hander was a major catalyst for the Vols, holding the Aggies to just one baserunner while striking out four in 2 1/3 innings. Senior right-hander Camden Sewell followed him up with a strong outing, getting the final two outs in the ninth and the win before Dickey's heroics ended the game for the Vols.
"The look that Andrew Lindsey had on his face the entire day today was very scary. His stuff was really good, and he was actually the pitcher that was throwing when I broke my hand in the fall," said Dickey. "I would not have liked to be a hitter against him."
Tennessee will go for the sweep over Texas A&M to close out the series on Sunday afternoon at 1:00 P.M. EST. The Vols will send out sophomore RHP Drew Beam (3-1, 2.25 ERA) to face the Aggies' freshman LHP Justin Lamkin (1-1, 1.33 ERA).