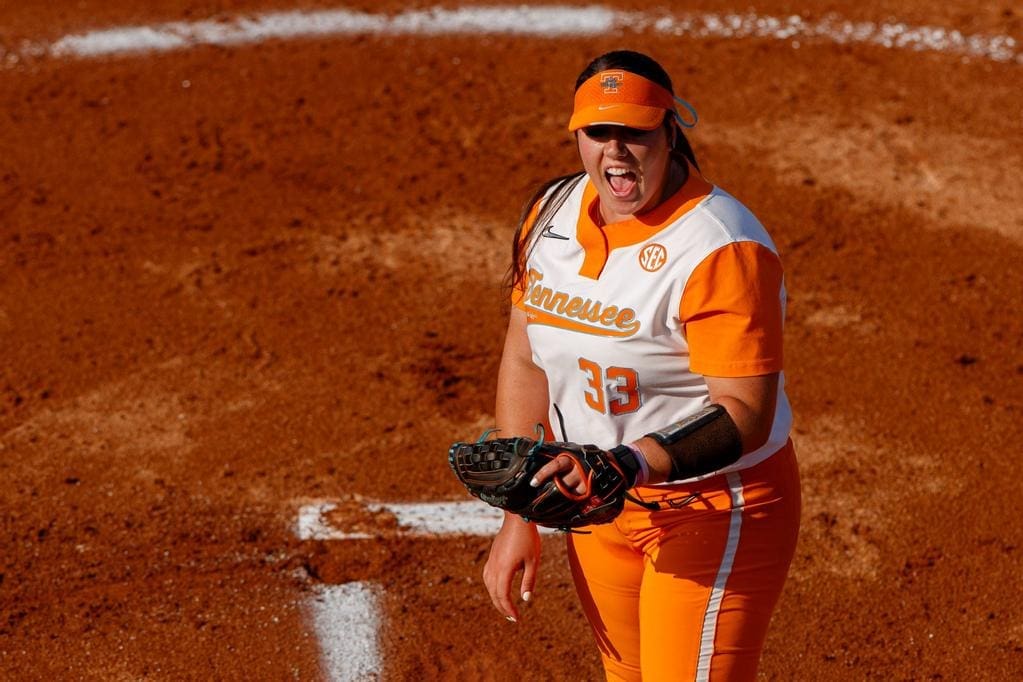 Photo Credit: Kate Luffman/ Tennessee Athletics
By Jace Brown
KNOXVILLE, Tenn. – The No. 4 Lady Vols proved why they have received such high praise all season in Knoxville during their first regional matchup on Friday.  The Lady Vols were 44-8 coming into the game against the Horizon League Tournament Champion Northern Kentucky Norse (23-30). 
The game ended in a run-rule after the top of the 5th inning after 12 runs from the Lady Vols to none from Northern Kentucky. 
Vols senior pitcher Payton Gottshall struck out the first six batters she faced, finishing with nine total on the afternoon. Gottshall (14-1, 1.53 ERA) threw her first no-hitter while clad in orange in the opening game of the regional round of the NCAA Tournament.  She allowed only two baserunners, both via walks.  
"My plan was just to attack with my pitches" Gottshall said.  "…And not really focus on their offense as much, just focus on my strengths and what I knew was gonna work."
The offense started early, as Zaida Puni hit a solo shot in the bottom of the first inning to grab the early lead that the Lady Vols never let go.  
Northern Kentucky's starting pitcher Lauryn Hicks (11-9) had a rough outing but got out of some tough spots.  After giving up the solo homer in the first and walking the bases loaded with one out, she ended the threat with back-to-back strikeouts.
The second inning had a similar scare.  With two outs, she allowed two baserunners thanks to an infield error and a walk.  Thanks to a great stop by 3B Brielle DiMemmo, she got the final out to stop the bleeding.
After not capitalizing with runners in scoring position in the first two innings, the bats woke up in the third.  Jamison Brockenbrough started the scoring with a 3-run triple to right field, which was followed by an RBI double from Katie Taylor.  McKenna Gibson delivered a two-RBI double herself three batters later to extend the lead to 7-0 after the third inning.  Gibson's two RBIs brought her season tally to 61.
Gottshall allowed her first of just two baserunners on with two outs in the fourth, but quickly produced the third out via an infield pop-up.  
The fourth inning was also big for the Lady Vols.  After a couple singles from Mackenzie Donihoo and Lair Beautae and a sacrifice bunt from Giulia Koutsoyanopulos, Brockenbrough drove in two more runs with a double to right field.  Brockenbrough finished with five RBIs, taking her season total to 25.
"She's just different,"  Lady Vol Zaida Puni said about Brockenbrough.  "She brings so much energy to our team.  Her confidence has come up a lot and she's doing well and I'm just happy to see her succeed."
Following a Kiki Milloy walk two batters later, Zaida Puni delivered the final blow of an already out-of-hand ballgame, hitting a towering 3-run home run off the scoreboard that brought us to the eventual-final score, 12-0.  This was Puni's 12th home run of the season and her 51st, 52nd, and 53rd RBIs.
The Lady Vols play the Big Ten Tournament runners-up Indiana Hoosiers (43-16, 18-5 Big 10) Saturday, May 20, at 1:00 PM EST in Knoxville.