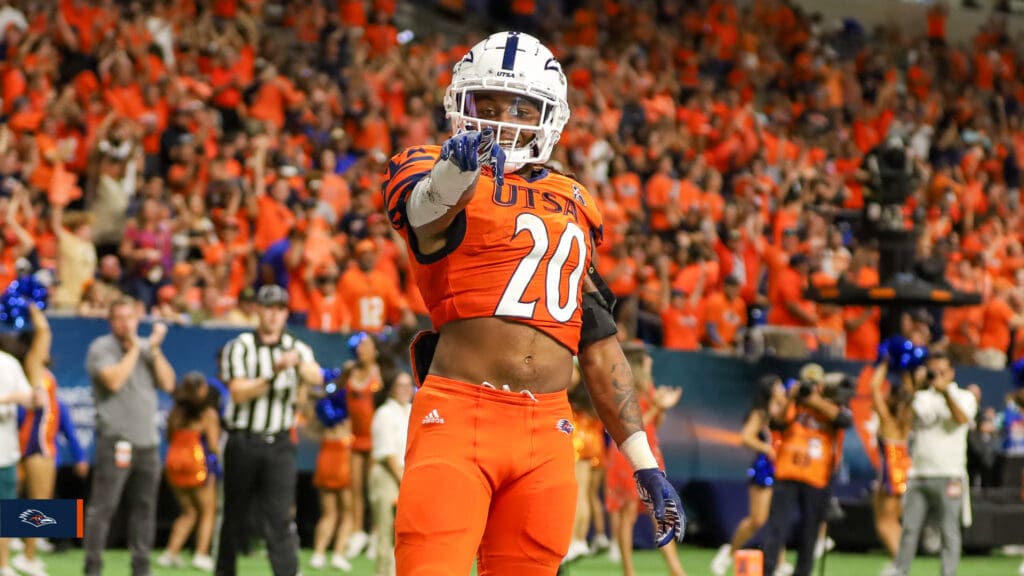 Photo Credit: UTSA Athletics (@UTSAFTBL)
By Tucker Harlin
No. 23 Tennessee (2-1) returns home to take on UTSA (1-2) at 4 p.m. ET in Neyland Stadium Saturday. The Vols are a 21-point favorite ahead of the matchup.
UTSA is one of the youngest FBS programs as it was established in 2012. The Roadrunners have been one of the more prolific group of five programs over the past two seasons, amassing a 23-5 record and two Conference USA titles in that time. This year, the Roadrunners have moved from Conference USA to the American Athletic Conference.
Similar to 2022, 2023 has started up and down for the Roadrunners. They began the year with a 17-14 loss at Houston, then won a tight game at home against Texas State 20-13. Last week, UTSA lost 37-29 against Army in the Alamodome.
One of the biggest reasons for the Roadrunners recent success is their depth at offensive skill positions. This year, the Roadrunners have lost receiver Zakhari Franklin to Ole Miss and running back Brenden Brady to graduation, but have retained every other impact skill player from a season ago.
Frank Harris is back at quarterback for the Roadrunners, but an injury could keep him out of the lineup. If Harris is not able to go, the Roadrunners will turn to Eddie Lee Marburger as their field general. Marburger threw for 239 yards and three touchdowns in the loss to Army last week
Back for another year with Harris in the backfield is running back Kevorian Barnes. Despite splitting time with Brenden Brady in 2022, Barnes led the way on the ground with 845 yards and six rush touchdowns. Barnes rushed for 103 yards in each of 2023's first two contests but was held to just 39 against Army.
On the receiving end, the Roadrunners have a veteran group in wide receivers Josh Cephus, JT Clark, and Tykee Ogle-Kellogg, along with tight end Oscar Cardenas. Each of these receivers are serious vertical threats to opposing corners as they are all 6'3" or taller.
Cephus is the top receiver from last year's bunch to return, and so far he leads the team in both receptions and yardage in 2023. Clark has seen very limited action this season as he is just now finding his way back on the field after a knee injury he suffered last year. Ogle-Kellogg has jumped into the third receiver spot, and he has been getting a lot of attention with Clark still recovering.
In the trenches, the Roadrunners have returned all but two important pieces in 2023. Luke Lapeze is the Roadrunners' center, and he saw action in all 14 of their contests in 2023.
At guard, the Roadrunners will field Terrell Haynes and Venly Tatafu. Haynes moves to the right side of the line, and Tatafu will take his spot on the left side, shuffling in from tackle. Walker Baty and Ernesto Almaraz will be the Roadrunners' tackles. Almaraz moves from center to right tackle to take the place of the injured Makai Hart, meanwhile Baty will play on the left side where he started seven games in 2022.
Similar to the offense, the Roadrunners bring back much of what they had in 2022 on the defensive side.
Up front, the Roadrunners are deep. In the middle of the defensive line is Brandon Brown, a member of the All-Conference USA first team a season ago that registered five tackles for loss. On the edges, the Roadrunners will be three-deep. On one side, there will be a mixture of Trumane Bell, Asyrus Simon, and Ronald Triplette, and the other side will feature Joe Evans, Brandon Matterson, and Nick Booker-Brown.
The back half of UTSA's front seven also returns plenty of experience from last year. The Roadrunners' top tackler from 2022, Jamal Ligon, has returned to play at Jack linebacker. Willie linebacker Trey Moore, who led the team with eight sacks in 2022, is already halfway to that number less than a month into the season.
The Star position will be occupied by Donyai Taylor, who served as a depth piece in 2022. The Mike spot has Avery Morris listed as its starter, but there is another Mike linebacker at UTSA that Tennessee fans are familiar with.
Martavius French was with Tennessee back in 2020 and was a part of the mass exodus that followed Jeremy Pruitt's termination. French wound up at junior college powerhouse Hutchinson Community College in Kansas, and he came to San Antonio in 2022. So far, French leads the Roadrunners in tackles this season with 17.
The Roadrunners' corners this week will be Nicktroy Fortune and Kam Alexander. Fortune started last season, recording 41 hits and 5 pass deflections. Alexander transferred in from Sam Houston where he spent the four previous seasons. He only played in four of the Bearkats' contests in 2022.
At safety, the Roadrunners will rely on Ken Robinson and Rashad Wisdom. They were critical pieces on the back end last season, and Robinson and Wisdom both lead the UTSA secondary in tackles this season.
In the last phase of the game, the Roadrunners return punter Lucas Dean. Dean averaged 45 yards per punt last season and earned All-Conference USA honors.
The Roadrunners have a new face at kicker in Chase Allen. Allen has not missed a kick this season as he has nailed five extra points and knocked in two field goals over 40 yards in length.
Wide receivers Josh Cephus and Willie McCoy will handle the return game for the Roadrunners. McCoy transfers in from Kilgore College, where he was an NJCAA All-American. McCoy returned two punts and two kicks for touchdowns and had the sixth most kick return yards in NJCAA.
Anyone looking to catch the matchup can tune into SEC Network or stream on the ESPN app at 4 p.m. ET on Saturday afternoon.