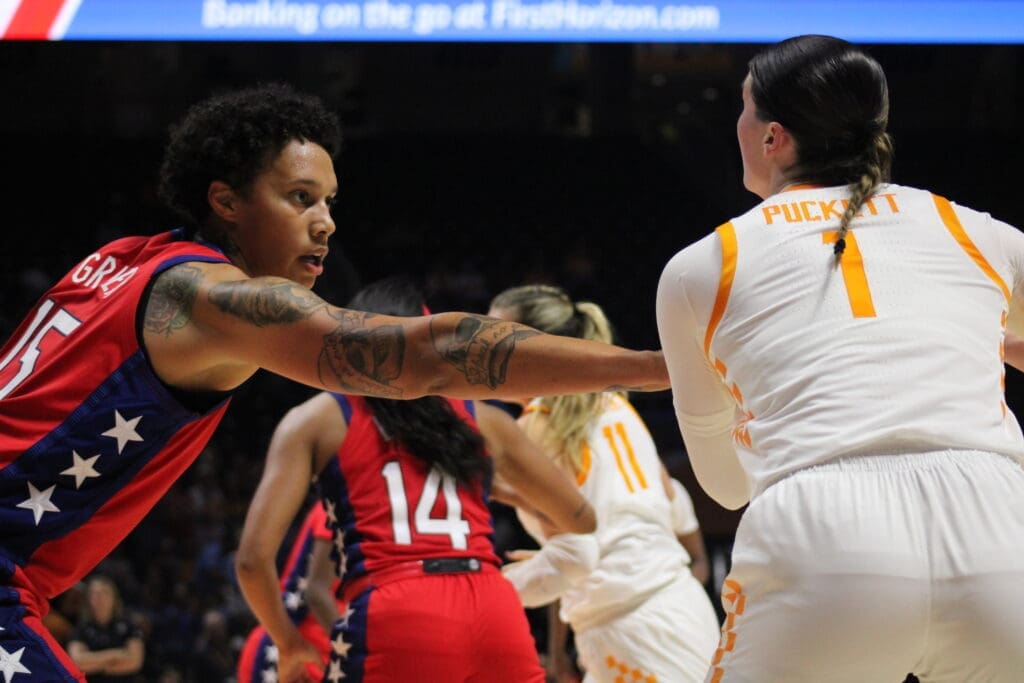 Photo by Riley Haltom (@rileyhaltom)
By Matthew Silitsky
KNOXVILLE, Tenn- No. 11 Tennessee (0-0) fell to Team USA (0-0) 95-59 in a preseason exhibition game in Thompson-Boling Arena at Food City Center Sunday.

It was not a pretty result for the Lady Vols, but it was an excellent experience for a team with high expectations.
Defensively, the skill levels were not parallel, and it showed in conditioning and perimeter defense.
USA pushed the floor on fastbreak 34 to 6, and at no point did the Lady Vols have an answer. Transition defense evidently was a problem, and the Lady Vols appeared gassed on several defensive possessions despite running a 12-woman lineup.
"A majority of that was because of turnovers." said Lady Vols head coach Kellie Harper. "It wasn't because of lack of conditioning; we had a few breakdowns but that was a small number."
The size differential between the teams was stark, but the Lady Vols did what they could given the circumstance.
For example, the Lady Vols did an excellent job defending 6-foot-9 Brittney Griner. Griner finished with just 11 points in 23 minutes to go along with four fouls.
Speaking of fouls, Lady Vols forward Karoline Striplin needed every foul she was allowed. She picked up two early defending Griner and finished with a total of four. Luckily, there was no set number of fouls in the exhibition.
Scoring the ball was no walk in the park against some of the best players on the planet.
Despite putting up just 59 points, the Lady Vols outrebounded Team USA on the glass 38-37. Moreover, many of those rebounds came on the offensive glass, totaling 12 to USA's one.
The Lady Vols were trying to play fundamental offense, which was composed of predetermined passes and cuts for most of the game.
Team USA caught onto the strategy early and caused Tennessee to forfeit the ball 18 times, mostly off sloppy passes and an inability to hold onto the ball after rebounds. Indecisiveness hurt the Lady Vols over the course of last season, and this was no exception.
Harper gave her players the green light to let the 3-pointer fly. What started off with a 3-point lead courtesy of a deep ball from Sara Puckett implored the Lady Vols to keep firing. As time went on, the Lady Vols cooled off from distance.
All in all, it was an excellent opportunity for the Lady Vols to play the best of the best in women's basketball.
"We learned throughout the entire game and don't take this experience for granted." said Lady Vols guard Tess Darby.
With the regular season on the horizon, the Lady Vols are looking to apply what they learned in the exhibition to their upcoming competitions.
"As a coach, you obviously want more practice," Harper said. "But it's time to play and see where we are at."
The Lady Vols start their season at home in Thompson-Boling Arena at Food City Center on Tuesday against Florida A&M. The game tips off at 6:30 p.m. ET and will air on SEC Network Plus.