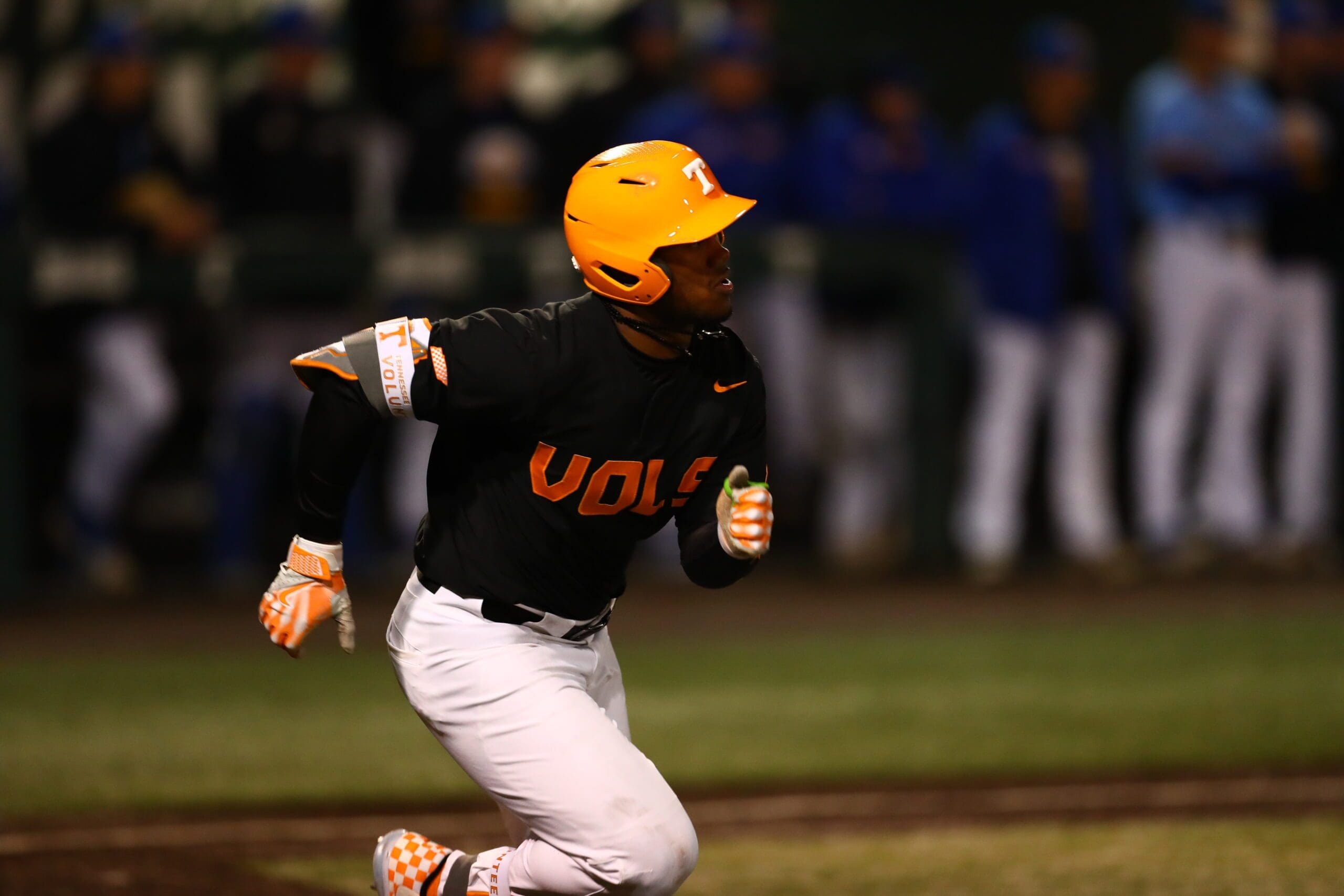 By Joseph Bonanno
KNOXVILLE, Tenn. – No. 3 Tennessee mashed seven home runs and had three five-run innings en route to a 23-4 bashing of Morehead State on Friday night to open the final non-conference weekend series before conference play begins.
Junior Chase Dollander (W, 3-1) provided another quality start for the Tennessee (12-3) offense. After allowing a pair of walks in the opening frame, Dollander settled in, going 5.2 innings, allowing two runs on three hits while striking out 11 batters and walking three. It was the third straight double-digit strikeout game, the first time Dollander has done so. His only blemish on the day was giving up a two-run home run in the fourth inning.
After snapping their 11-game win streak in the extra-innings loss to Boston College Eagles on Tuesday, Tennessee's responded well in Friday night's annihilation of the Morehead State Eagles (9-5).
Friday Night Home Run Derby
Tennessee tied a program record for home runs in a game after hitting seven in Friday night's win. It was the first time Tennessee reached that mark since they did it on May 19 against Mississippi St. last year. Six different Vols hit home runs in the game, including two from Kansas transfer Maui Ahuna who had a three-run homer in the second inning and a two-run home run in the seventh inning, his first home run as a Vol.
Ahuna finished his day going 2-2 with five RBIs, three walks, and a hit-by-pitch. Friday marked the third game for Ahuna as Tennessee's leadoff batter, where he has made the most of his opportunity collecting 10 RBIs since moving there.
"He's got all of the skills to hit anywhere in the top of the order. But it seemed like in scrimmages in the fall, when we would put him in that slot, the productivity was the best," said Tennessee head coach Tony Vitello. "Maybe it's coincidence, and scrimmages aren't necessarily games, but that's what it seemed like. So that was the target at the start of the season."
Other than Ahuna, Zane Denton (2), Jared Dickey (4), Dylan Dreiling (1), Kavares Tears (1), and Christain Scott (1) were all responsible for the other Tennessee home runs. Morehead State added a pair of home runs of their own, a two-run shot in the fourth and a solo shot in the eighth.
Tennessee got the job done in multiple ways, getting 18 hits from 11 different players, four of which had multi-hit days.
Denton Goes for the Cycle
The Alabama transfer had a career day in Friday's win. Denton hit a 2-RBI double in the first inning, a leadoff home run in the second, a 2-RBI single in the fifth, and completed the cycle with a 2-RBI triple in the sixth inning. He becomes the fifth player in Tennessee program history to hit for the cycle joining Chris Burke (2001 vs. Vanderbilt), Matt Duffy (2011 vs. New Orleans), Jordan Rodgers (2016 vs. Kentucky), and Trey Lipscomb (2022 vs. Iona).
Despite being so locked in at the plate on Friday night, the achievement was still shocking to Denton.
"Never in a million years would I have thought I hit for the cycle," said Denton after the game. "I'm still in shock honestly. I never would have ever imagined that I'd be one who hit for the cycle but luckily it happened so just trying to enjoy it."
Denton set multiple career-highs after collecting four hits and six RBIs and also tied his career-high with three runs scored. Despite a slow start to the season, the Brentwood, Tenn., native is fitting right in back in his home state.
"It's everything I could have dreamed of. It's something that I've always wanted to do and just luckily the opportunity lined up and I'm here now and it's still surreal to me," said Denton. "
Freshmen Show Out
Redshirt freshman outfielder Kavares Tears made his first career start for Tennessee on Friday night and made the most of the opportunity. Tears went 3-4 from the plate, driving in a pair of RBIs and scoring a pair of runs. Tears had an RBI single in his first at-bat before hitting a 420-foot solo home run that was a part of the Vols' five-run third inning.
Tears has not been a major player for Tennessee so far this season but after the Vols' loss to Boston College on Tuesday, Vitello saw something he liked from the freshman.
"He was the best practice player the last two days, it was that simple," said Vitello. "He's always working hard, takes a lot of swings in here, but baseball unfortunately requires intent all the time. He did that as well as anybody, if not the best, the last two days, and obviously, we put in a lot of practice following Tuesday's game."
Freshman outfielder Dylan Dreiling also hit his first career home run as a part of that third inning, a two-run shot. Dreiling has found himself battling for a starting spot, whether in the outfield or as a designated hitter and has made the most of his opportunities.
What's Next
Tennessee and Morehead St. will play a doubleheader for games two and three of the series on Saturday night. First pitch for game two is set for 2:00 P.M. EST on the SEC Network+. The Vols will send out sophomore RHP Chase Burns (1-0, 2.60 ERA) to face off against the Eagles' junior RHP Grant Herron (2-0, 3.00 ERA). Game three will be at 6:00 P.M. EST and will feature Vols' sophomore RHP Drew Beam (2-0, 1.76 ERA) to face the Eagles' graduate senior LHP John Bakke (1-0, 1.23 ERA).