By Riley Haltom
Draft day is this upcoming Thursday, and much has changed since the last iteration of my mock draft. Rumors are flying about the Texans potentially passing on a quarterback and the mock trades are getting wilder and wilder as we inch closer to draft weekend. This is my take on how the first two rounds of this wild draft might go:
Pick 1 – Carolina Panthers (via CHI): QB Bryce Young, Alabama
The discourse has recently shifted from CJ Stroud first overall to Bryce Young first overall, and I've talked myself into it. If he wasn't so small, this would be the most unanimous slam dunk first overall QB of all time, with the things Bryce Young brings as a signal caller.
Pick 2 – Houston Texans: QB Anthony Richardson, Florida
This took a ton of convincing myself to do. This mock went through about four iterations before being released, and the first two had CJ Stroud here and the third had Will Anderson. But Anthony Richardson is an insanely dynamic player with upside through the roof. Assuming the agent thing and the S2 cognitive test scare them away from Stroud, the Texans need to pick Richardson. He has #1 overall upside and a Justin Fields-like floor.
Pick 3 – Indianapolis Colts (via ARI): Will Levis, Kentucky
Indy has to trade up here to prevent division rivals from taking their guy, and send a 2024 second and 2023 third in the process. They're left with a prospect that is the most Indy player available. Levis just FEELS like a Colt.
Pick 4 – Arizona Cardinals (via IND): Jalen Carter, Georgia
I don't see some insane Jalen Carter slide happening. Carter is a great player that will be a monster on the defensive line, and Arizona needs help just about everywhere. Getting the best player as well as more draft capital is a major success for them.
Pick 5 – Seattle Seahawks (via DEN): EDGE Will Anderson Jr, Alabama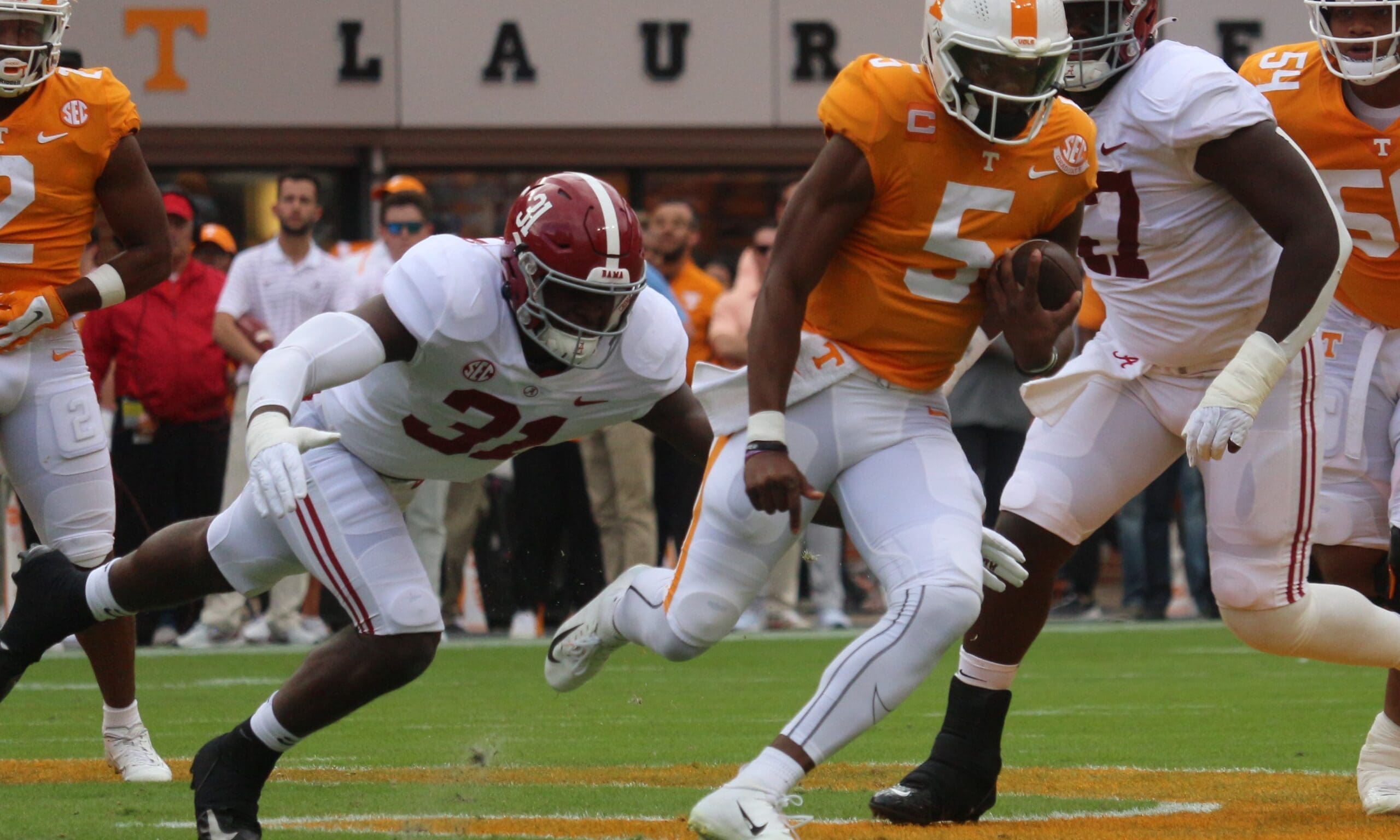 The premier EDGE talent comes off the board, and rolling with Geno for now, the Seahawks pass on a QB. Look for them to pick Hendon Hooker or Dorian Thompson-Robinson, my fifth and sixth-ranked QBs in this draft, later on. For now, they snag the best available player and get another piece to build the defense so they can compete for a playoff spot next season.
Pick 6 – Tennessee Titans (via DET): QB CJ Stroud, Ohio State
The Titans give up #11, a 2024 first and third, a 2025 second, and Malik Willis to go get their QB of the future. After the Malik Willis experiment, the Titans try to prepare for the future with Stroud. The uber-accurate playmaker can dish the ball out to young developing weapons like Treylon Burks and Chig Okonkwo. Allegedly, the leaked S2 scores were incorrect, so the Ohio State connection leads me to believe the Titans want Stroud.
Pick 7 – Las Vegas Raiders: CB Devon Witherspoon, Illinois
The Raiders, not expecting the Titans to jump up, miss their chance at the top QBs on their board. Instead, they stick with Garappolo for a season and work to improve their offensively bad CB room. Devon Witherspoon has all of the tools you want for a corner at the NFL level.
Pick 8 – Atlanta Falcons: EDGE Tyree Wilson, Texas Tech
The Falcons build their defense even more. After a successful offseason, they add a little more with a young, disruptive EDGE that Arthur Smith is going to love. Wilson is just one of the many tier-one edge rushers in this class.
Pick 9 – Chicago Bears (via CAR): OT Paris Johnson Jr, Ohio State
The Bears get a haul by trading back and still get their pick of offensive tackles. Paris Johnson Jr has a ton of potential and could easily be a day-one starter. This can help establish that line as they continue to build around Justin Fields.
Pick 10 – Philadelphia Eagles (via NO): RB Bijan Robinson, Texas
Yeah, this is a major luxury pick. They don't have any holes, so why not get a superstar running back? This makes an already terrifying offense all the scarier. Robinson is the best RB prospect since Saquon and I expect him to live up to the hype. He has everything you want in a RB and only one negative: he sometimes fumbles. He might have to make a mistake or two to learn and correct it but regardless, this is a homerun player.
Pick 11 – Detroit Lions (via TEN): CB Christian Gonzalez, Oregon
The Lions trade down, get a first next year, and a backup QB and still land one of the two tier-one corners in this draft. Gonzalez will be a great player at a position of great need (I had them selecting a corner BEFORE the Jeff Okudah trade).
Pick 12 – Houston Texans (via CLE): EDGE Myles Murphy, Clemson
With Okoronkwo gone to Cleveland, the Texans need some juice off the edge. Murphy is another tier one rusher in this draft with elite athletic ability. DeMeco Ryans gets another piece to build his defense. (If they do ultimately pick Stroud, this will be JSN).
Pick 13 – Green Bay Packers (via NYJ): TE Dalton Kincaid, Utah
This will depend on how comfortable Green Bay is with the other TEs in this draft. If they have Dalton Kincaid on about the same level as Darnell Washington, Sam LaPorta, or Michael Mayer, this could easily be a tackle, likely Skoronski, and they can defer TE to the second round. Kincaid is a sure handed target at a position of need for Jordan Love. The Packers will want to build around Love and giving him a reliable pass-catcher is a great first step. The best TE in the draft goes to Wisconsin.
Pick 14 – New England Patriots: WR Quentin Johnston, TCU
While I don't believe Johnston is the best WR in this draft, I think the Pats will take a big swing at the physical attributes Johnston has. He makes dumb decisions with the ball in his hands, but that is a very coachable flaw. The focus drops, however, are not. If he can lock in he can be a big-time threat for the Pats.
Pick 15 – New York Jets (via GB): OL Peter Skoronski, Northwestern
The Jets land a versatile piece on the line to pair with Alijah Vera-Tucker. They can play with where they sit permanently but that versatility, especially early in their careers, will be a major asset to the Jets and Aaron Rodgers.
Pick 16 – Washington Commanders: CB Joey Porter Jr, Penn State
Porter is a physical corner that will make it tough for any receiver to get off the line. He can be handsy and sometimes gets beat deep, but the ball skills and the ability to force incompletions or take away an option completely are undeniable.
Pick 17 – Pittsburgh Steelers: OT Darnell Wright, Tennessee
There are some concerns about Wright's "football character", but the talent he has is completely and totally undeniable. His pass game sets are great, and while he has a lack of experience against a deep outside shoulder rush, he has been lockdown for Tennessee on the right side. 
Pick 18 – Detroit Lions: EDGE Lukas Van Ness, Iowa
Van Ness has a ton of talent and can immediately contribute. Van Ness has a deep bag and all of the athleticism needed for the position. The Lions need another player to support Aidan Hutchinson, and Van Ness can start opposite the former second-overall pick.
Pick 19 – Tampa Bay Buccaneers: CB Deonte Banks, Maryland
The Bucs have needs just about everywhere, but the best player available at a position of great need is Banks. Banks is a part of that tier one of corners in this draft, it really comes down to team preference from prospect to prospect.
Pick 20 – Seattle Seahawks: OG O'Cyrus Torrence, Florida
Torrence is a beast on the interior. He immediately offers support on the inside and bolsters that Seattle offensive line for both Geno Smith and Kenneth Walker III. Seahawks fans should be happy a player of this caliber fell this far.
*Miami forfeited their first-rounder as a penalty for tampering*
Pick 21 – Los Angeles Chargers: WR Jaxon Smith-Njigba, Ohio State
LA should be very happy that WR1 fell this far. Because of New England's inclination towards Johnston's size and speed, Smith-Njigba falls right into the hands of a team that desperately needs some juice offensively. JSN was a walking big play at Ohio State and should be a great piece for Justin Herbert. I could also see them attempting to trade up to secure JSN, maybe to 18?
Pick 22 – Baltimore Ravens: WR Zay Flowers, Boston College
Zay Flowers is incredible. He plays much bigger than his size, and assuming Lamar Jackson stays, he now has an incredible set of weapons. Paired with Odell Beckham Jr and Nelson Agholor, the Ravens pass-catching corps looks much better and should appease Lamar Jackson (assuming he's not already traded by draft night).
Pick 23 – Minnesota Vikings: WR Jordan Addison, USC
Addison is a playmaker, no question about that. His size limits him to a slot role in the NFL, but that doesn't limit his dynamic ability. He's a great route runner and will get open. The Vikings are in win-now mode, and this is an upgrade over Adam Thielen.
Pick 24 – Jacksonville Jaguars: CB Cam Smith, South Carolina
The Jaguars need a corner more than anything else on the board, and Cam Smith being available makes him a great choice. I could see them going Brian Branch, but Smith's physicality will be a great asset for the Jags defense.
Pick 25 – New York Giants: S Brian Branch, Alabama
Instead, Branch goes one pick later to the Giants. Branch can play safety or nickel, so that versatility will be an extra advantage to adding Branch to that defense. If a wide receiver falls, the Giants almost have to take them, but they're better off waiting here. Branch is the best safety in the draft, so adding him here at a position of need is great.
Pick 26 – Dallas Cowboys: RB Jahmyr Gibbs, Alabama
Back to back Crimson Tide. After Bijan went early to the Eagles, and knowing the Bills might take a running back, the Cowboys secure a new RB2 to bolster that offense. Gibbs is explosive and will pair perfectly with Pollard.
Pick 27 – Buffalo Bills: OT Broderick Jones, Georgia
Broderick Jones is easily the best player available at this stage of the draft. Some have him as the best tackle, but regardless of if he's first or third on that list, he holds tremendous potential and value at 27. I expect him to compete for the right tackle spot, and for them to bolster the RB room later.
Pick 28 – Cincinnati Bengals: TE Michael Mayer, Notre Dame
Mayer has fallen down draft boards, including mine, but not as far as others. I like Musgrave and Washington, but Mayer is still going to be a premier player at TE. He'll be a surehanded target for Joe Burrow to go back to on important downs.
Pick 29 – New Orleans Saints (via SF): DL Calijah Kancey, Pitt
Calijah Kancey is a disruptor, plain and simple. With Shy Tuttle, the underrated DT going to Carolina, the Saints are going to need to replace that production with another young player. Kancey brings a ton of explosiveness to the interior. Undersized but effective.
Pick 30 – Philadelphia Eagles: EDGE Nolan Smith, Georgia
Speaking of undersized but effective, Nolan Smith is a great player to get drafted this late. He has elite speed and tracking down the QB is easily his strength. As a free rusher, he is a sack every time. Nobody is better than him in open space, defensively.
Pick 31 – Kansas City Chiefs: OT Anton Harrison, Oklahoma
The Chiefs don't have any major needs, but could stand to improve on the offensive line and receivers. I think they get better value with WR in round two, so they move to get younger on the offensive line and bring in someone who can compete.
ROUND 2
Pick 32 – Pittsburgh Steelers (via CHI): DL Bryan Bresee, Clemson
Bresee is a monster in the middle. He has a wide frame and that bulk with translate at the NFL level given his aggressive style of play. When healthy and locked in, he could be elite.
Pick 33 – Houston Texans: WR Josh Downs, UNC
With this, the Texans address their top three needs with their top three picks. QB, EDGE, and WR were all holes on the roster, and now all three are addressed with the dynamic slot receiver Josh Downs in round two.
Pick 34 – Arizona Cardinals: CB Kelee Ringo, Georgia
I'm still very high on Ringo, and I like for him to go here to Arizona. He's physical, a little slow on flipping his hips, but should be a great man corner in the NFL.
Pick 35 – Indianapolis Colts: OT Dawand Jones, Ohio State
Dawnad Jones can come in and either compete for the left tackle spot with Bernhard Raimann or immediately slot into the right guard spot opposite Quentin Nelson. 
Pick 36 – Los Angeles Rams: EDGE Isaiah Foskey, Notre Dame
Foskey has fallen down boards, and mine is no exception. However, I still see him as being a ridiculously high upside pick that can immediately fill a need for LA.
Pick 37 – Seattle Seahawks (via DEN): DE Will McDonald IV, Iowa State
This is another value pick, and I see them taking it here. They're going to hope that Hendon Hooker falls a little further, and I think he will.
Pick 38 – Las Vegas Raiders: OG Steve Avila, TCU
Raiders reach a bit for an offensive lineman but for good reason: they need an offensive lineman. Avila is probably better value in the late second round, but for a need he works.
Pick 39 – Carolina Panthers: EDGE BJ Ojulari, LSU
I think Ojulari has late first round value, so this is a slight steal for the Panthers. Ojulari has great potential and played very well at LSU against some great SEC tackles.
Pick 40 – New Orleans Saints: EDGE Adetomiwa Adebawore, Northwestern
With the premium OL prospects long gone, the Saints instead move to continue improving the defense. Adebawore is part of that tier two of edge prospects that will fly off the board in late round one to mid round two.
Pick 41 – Tennessee Titans: WR Jalin Hyatt, Tennessee
Yeah, I'll go there. Tennessee needs a wide receiver to go opposite Treylon Burks and they lack speed right now. Hyatt is an explosive receiver that does one thing: catch bombs.
Pick 42 – Green Bay Packers (via NYJ): LB Trenton Simpson, Clemson
Simpson offers a ton of versatility that the Packers can get creative with. This is good value so late.
Pick 43 – New York Jets: TE Darnell Washington, Georgia
Could Washington go round one? Yeah, but this is as far as he falls. Washington is a physical beast that has all the tools you want for an NFL tight end.
Pick 44 – Atlanta Falcons: LB Jack Campbell, Iowa
Campbell is another great linebacker with great awareness. His tackle numbers were extremely high at Iowa.
Pick 45 – Green Bay Packers: DT Mazi Smith, Michigan
Mazi Smith has been mocked in the first here and there. I like him in the early second. Smith is an athletic freak and a massive frame.
Pick 46 – New England Patriots: EDGE Keion White, Georgia Tech
Keion White is another potential first-rounder that in this mock, falls to the Patriots at 46. He's older but offers versatility schematically.
Pick 47 – Washington Commanders: TE Luke Musgrave, Oregon State
Musgrave is explosive and if he falls this far, it's almost a lock that he goes to Washington. He's an instant upgrade at a position of need.
Pick 48 – Detroit Lions: LB Drew Sanders, Arkansas
Drew Sanders offers versatility to either play off-ball or as an edge rusher. He has three down upside.
Pick 49 – Pittsburgh Steelers: CB Emmanuel Forbes, Mississippi State
Emmanuel Forbes is another player that has recently jumped into the first in some mocks, and he certainly has that upside. Steelers get a steal here with Forbes.
Pick 50 – Tampa Bay Buccaneers: EDGE Felix Anudike-Uzomah, Kansas State
Has prototypical size and speed for an edge rusher, just has to be more consistent down-to-down.
Pick 51 – Miami Dolphins: TE Sam LaPorta, Iowa
LaPorta allegedly could go in the first round, or at least before Darnell Washington. I prefer him to fall to 51 and be the Mike Gesicki replacement in Miami.
Pick 52 – Seattle Seahawks: QB Hendon Hooker, Tennessee
Said it earlier, pays off here. Hendon Hooker goes to the Seahawks in mid round two. Hendon gets a ton of Geno comps and sitting behind Geno should benefit Hooker. With improved pocket presence, Hooker could be a real threat in the NFL.
Pick 53 – Chicago Bears (via BAL): EDGE Tuli Tuipulotu, USC
Tuipulotu offers good upside and good burst off the line to win at the point of attack.
Pick 54 – Los Angeles Chargers: TE Tucker Kraft, South Dakota State
The Chargers reach just a bit for a position of need. Gerald Everett needs a successor soon, and Kraft could be the guy.
Pick 55 – Detroit Lions (via MIN): S Sydney Brown, Illinois
Sydney Brown offers value at a place of positional need for the Lions. Lots of defense early, but the value at the OL and TE positions last deeper into the draft.
Pick 56 – Jacksonville Jaguars: EDGE Derick Hall, Auburn
Derick Hall is a great answer this late for the position they need desperately. With their two main needs addressed, they can begin having fun with the other picks they have.
Pick 57 – New York Giants: OL John Michael Schmitz, Minnesota
Schmitz is a center by trade, but offers enough skill to be moved as needed. New York still needs a wideout but as mentioned earlier, there's more depth there than most think.
Pick 58 – Dallas Cowboys: OT Cody Mauch, North Dakota State
Another offensive lineman that's likely to move to guard, Mauch can fill a need for the Cowboys on the interior.
Pick 59 – Buffalo Bills: WR Cedric Tillman, Tennessee
Cedric Tillman could ultimately be the best receiver outside of the first round when its all said and done. Tillman is extremely physical and attacks the catch point.
Pick 60 – Cincinnati Bengals: CB DJ Turner, Michigan
Yet another flash in the pan on draft week with first round potential, I see too many flaws for him to go that high. The upside is there though, and Bengals fans should be happy.
Pick 61 – Chicago Bears (via SF): CB Clark Phillips III, Utah
Phillips III has slowly fallen down draft boards, and he started mock season as a first rounder. I see why, but the fall is fair given his lack of makeup speed.
Pick 62 – Philadelphia Eagles: S Antonio Johnson, Texas A&M
The Eagles could stand to get younger at safety, and Johnson is a versatile defender that has lined up everywhere in the secondary.
Pick 63 – Kansas City Chiefs: Siaki Ika, Baylor
I love Siaki Ika and he answers a need for Kansas City on the defensive interior. Ika has first-round upside with a solid rotational player-esque floor.
Whew. Fun draft with a ton of variation on where things might go. Can't wait for Thursday, which is essentially my favorite sports day of the whole year. Look for the Texans potentially passing on a QB early, shaking up the whole draft on pick 2.