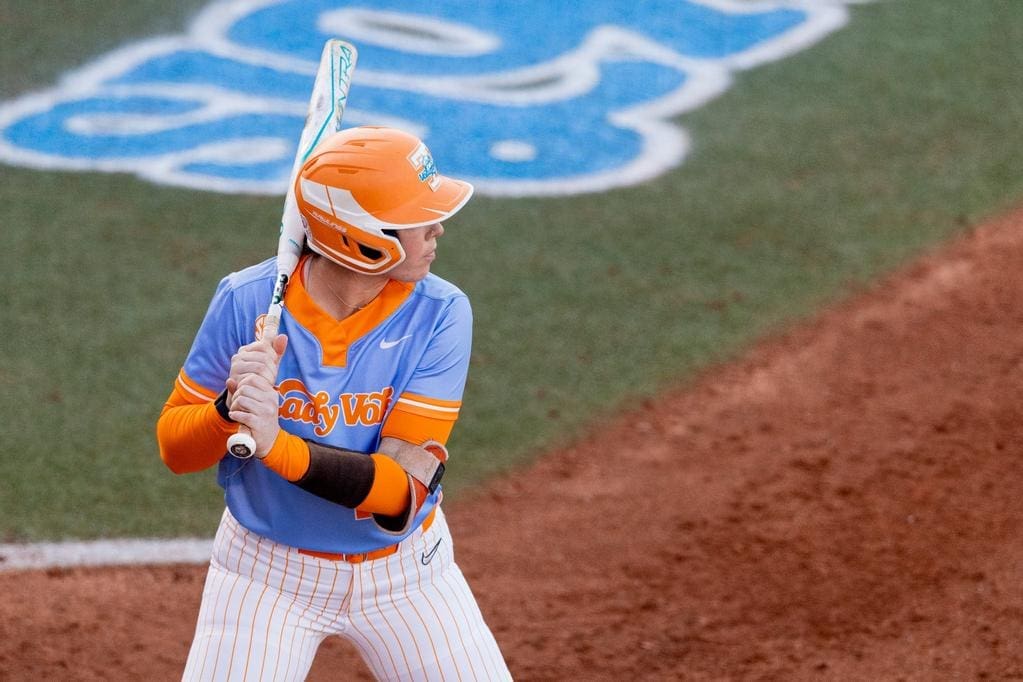 By Devin Hoke
KNOXVILLE, Tenn. – For the second straight night No. 3 Tennessee scored double digit runs and had a comeback to beat the No. 14 Florida Gators 10-6 on Monday night.
Another deja vu moment for the Lady Volunteers (35-5, 16-2 SEC) is that once again they started Karlyn Pickens in the circle and once again she struggled against this Florida (32-14, 8-10 SEC) lineup. 
Charla Echols batted in Skylar Wallace to give the Gators the early lead but then Pickens seemed to settle down. Tennessee answered in the bottom of the first when Kiki Milloy reached home on a long single from McKenna Gibson. The second inning however, is when things really went off the rails for Pickens. Emily Wilkie hits a solo home run and then Florida superstar Skylar Wallace hits a three run home run after a pair of runners got on to give the Gators a 5-1 lead. 
Karen Weekly made the change to put in ace pitcher Payton Gottshall, Payton has become even more crucial to the squad with superstar Ashley Rogers health being in question and the recent struggles of Karlyn Pickens. In a jam, Payton is able to get out of a difficult situation before Tennessee has their own answer right back. 
It was not the greatest start for Florida's starting pitcher Lexie Delbrey either as she loaded the bases in the second inning. Lair Beautae then bats in a two RBI single which is followed by a McKenna Gibson hit by pitch to load the bases and then followed up by a Rylie West walk to bring in another run. Florida would eventually get out of the inning and lead 5-4 but the big difference is that Tennessee had an ace pitcher and unfortunately for Florida, they did have an answer in the circle. 
Florida made a pitching change of their own by putting in Rylee Trylcek and she looked very solid in the third, but then the Tennessee offense emerged again in the fourth. Tennessee hit three straight singles which was followed up by a Mackenzie Donihoo two RBI double to give the Lady Vols their first lead of the game. Jamison Brockenbrough was able to drive in another run due to an infield error before the inning was finally over. 
Florida was not done yet however, as the talented Charla Echols hit a solo blast to put the Gators back within one. From that point on, Payton Gottshall shut the Gators down.
"At the start of SEC (play) I made it bigger than it should have been" said Gottshall when talking about her pace in the game. "Last weekend really helped me get back to that."
The only other score was a Rylie West three run home run in the fifth inning to put Tennessee up 10-6.
"It's been awesome and just see her be consistent day to day to day and thats the thing we need from Rylie," Weekly said when talking about West's big insurance hit. "She has the capability, we see it every day in practice and I think this weekend should give her a lot of confidence too."
With the sweep of Florida Tennessee is now 16-2 in conference play and Florida is now 8-10. As the season winds down Tennessee will go on the road for a difficult series against Arkansas before playing a final home series against the also talented South Carolina Gamecocks.