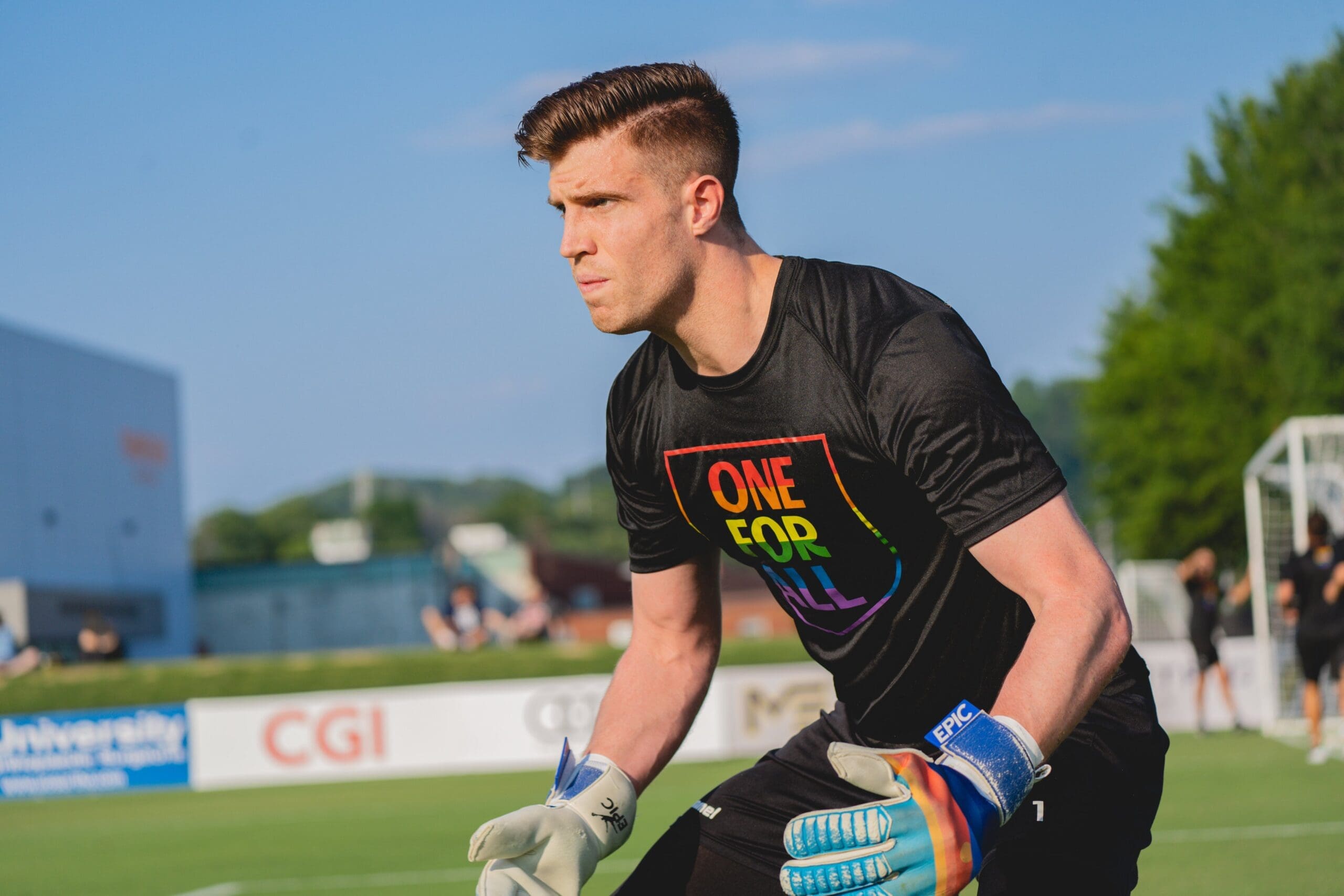 Photo by One Knox SC (@OneKnoxSC)
By Dominic Throngard
KNOXVILLE, Tenn. – One Knoxville SC lost 1-0 at Regal Soccer Stadium Saturday night against North Carolina FC in a well-contested match that saw the league leaders stay on top.
The first half saw One Knox and North Carolina battling it out and looking fairly even. Both teams saw quality chances and momentum swings were commonplace. Jan-Erik Leinhos, unfortunately, went down with an injury and had to be subbed off early and replaced by Matthew Vowinkel as the man in charge Mark McKeever shifted the formation around to accommodate the new forward. There was also some controversy early on as a very clear handball took place near the NCFC box from the defending side. The match was hotly contested, but NCFC broke through the Knoxville defense at the end of the half in stoppage with a goal from Jaden Servania that gently bounced off the post and in after some stellar passing found the midfielder free in the box.
The second half started off hot with a near goal from NC during a corner kick but ended up being a lower energy affair with North Carolina content to hang on to their one-goal lead and bleed Knoxville for the rest of the match. Tensions picked up as North Carolina's propensity to go down riled up the home crowd. Lots of time-wasting tactics from the away side slowed the game down to a screeching halt as One Knox tried desperately to keep their offensive energy and pace. Hostilities abounded because of this as NCFC took some genuine dives and the calls seemed extremely unfavorable to One Knox. Fans voiced their displeasure loudly throughout the second half as North Carolina's players seemed to be on the grass more often than their own two feet. Knoxville managed to come away with a couple of quality looks, but ultimately couldn't get the job done.
Throughout the season the crowd has continued to impress the USL1, boasting high attendance numbers and a great atmosphere at Regal Soccer Stadium. The frustration was palpable at the end of this match, but the home supporters continue to show their solid love for the team nonetheless. A true testament to the through thick and thin nature of East Tennessee sports fans. 
One Knoxville SC will be back in action in Colorado against the Northern Colorado Hailstorm next weekend in a matchup with a 9 p.m. ET start. The team will be hungry to pick up points after dropping one at the home ground.